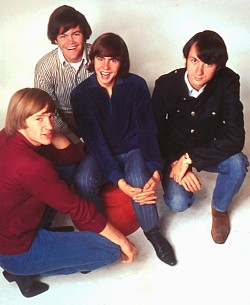 The Monkees were a US pop band created in the wake of the Beatles, with their music underpinning a TV show that aped the style of the British group's cinema debut A Hard Day's Night. Michael Nesmith (1942- ), Peter Tork (1942- ), MIcky Dolenz (1945- ) and Davy Jones (1945-2012) starred in the TV show from 1966-8, made a number of LPs, some of which have undergone reassimilation since their original releases, and had a string of successful, tuneful hits on both sides of the Atlantic.
They were originally seen as plastic and throwaway and for some time it was widely believed they did not perform on their own recordings. However, Nesmith and Tork both had ability and credibility as musicians, and Dolenz had a keening, vibrant vocal sound that became a distinguishing feature of the group's sound. In the second series of their TV show, they invited a variety of guests, including Frank Zappa and Tim Buckley. Their LP Headquarters (1967) is adventurous and unusual for the time in that it contained no tracks released as singles, while the single Pleasant Valley Sunday was a biting critique of middle-class America. All of this belies their reputation as a manufactured product, and their unsuccessful yet under-rated psychedelic movie Head (1968) is a deliberate attempt to dispel the myths that had surrounded them. Peel played their music occasionally during his time at Radio London, but does not appear to have had any particular liking for the band.
One of their early hits, I'm A Believer (1966) [1], was covered in sparse style during a Peel session by Robert Wyatt and was subsequently released as a single, while Nesmith's composition Different Drum was covered by and became a Festive Fifty entry for the Lemonheads. In addition, Last Train To Clarksville was a stage favourite of the Russians.
Festive Fifty Entries
Sessions
Other Shows Played
01 July 1967: 'Alternate Title (7")' (RCA) [2] (JP: 'Don't forget, if you meet the Monkees, tell them John Peel sent you, and they'll look at you very strangely and ask you to leave the room.')
02 August 1967: 'Pleasant Valley Sunday (7")' (RCA)
23 June 1982 (Mark Ellen): Randy Scouse Git
See Also
External Links
Footnotes
↑

The only Monkees single to reach number 1 in the UK charts.

↑ An alternately twee and raucous tune originally titled Randy Scouse Git as a reference to the TV series Till Death Do Us Part.
Community content is available under
CC-BY-SA
unless otherwise noted.