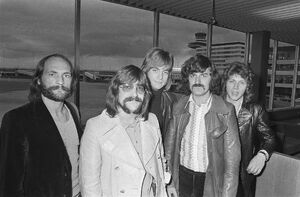 The Moody Blues are a rock band formed in Birmingham, England in 1964, initially consisting of keyboardist Mike Pinder, multi-instrumentalist Ray Thomas, guitarist Denny Laine, drummer Graeme Edge, and bassist Clint Warwick. The group came to prominence playing rhythm and blues music. They made some changes in musicians but settled on a line-up of Pinder, Thomas, Edge, guitarist Justin Hayward, and bassist John Lodge, who stayed together for most of the band's "classic era" into the early 1970s.
(read more on wikipedia)
Links to Peel
"Having found a new lease of life and produced two brilliant LPs, should go on forever."
(John Peel, ABC Of Beauty, Disc & Music Echo, 2 Nov 1968.[1])
During his time in America, Peel would have been aware of "Go Now", the hit single which made the Moody Blues' name in 1964, as it topped the British charts and made the U.S. Top Ten. None of their follow-up singles was as successful, but one was featured in Radio London: John Peel Climbers; 'Fly Me High' being his climber for the week beginning 30 April 1967.
As later recalled in the Peel-narrated TV documentary Rock Family Trees: Birmingham Beat, the Moody Blues initially struggled when Denny Laine left but successfully managed to update their sound, appealing to a new audience with concept albums 'Days Of Future Passed' (1967) and 'In Search Of The Lost Chord' (1968). Their "orchestral" approach was acclaimed as a new direction in what was then called "progressive pop" and brought them major commercial success in Britain and the USA.
The group did four sessions for Top Gear in the late 1960s, with the first including a version of the smash single 'Nights In White Satin'. However, despite the Moodies' popularity with record-buyers, some rock critics began to ridicule their lyrics and accused the band of pomposity. Although Peel never singled them out for criticism (unlike ELP and Deep Purple), they seem to vanish from his playlists after 1970, even if they contiuned to get exposure on other Sounds Of The Seventies shows. Peel's Radio 1 colleague David Symonds was particularly keen on them. They also did BBC daytime show sessions for the likes of Terry Wogan and Jimmy Young[2].
It was inevitable that their stadium-like sound would lose its appeal for John, as evinced when he played a Slim Harpo track called 'Moody Blues' on 08 January 1998 (BFBS) and added, "You see, there would have been those who, when I said "moody blues", would have thought to themselves, "Ah! At long last on John Peel's Music From BFBS, the pomp rock behemoths!"
Festive Fifty Entries
Sessions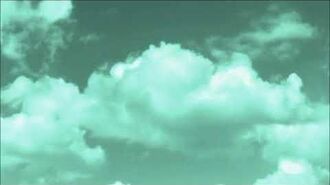 Four sessions. Official releases:
- On Live At The BBC 1967-1970 2xCD, 2007 (Deram, 984 720-2)
- On In Search Of The Lost Chord 3xCD 50th Anniversary Edition, 2018 (Universal)
1. Recorded: 1967-11-13. Broadcast: 03 December 1967. Repeated: 31 December 1967
Another Morning / Twilight Time / Time To Get Away / Nights In White Satin / Forever Afternoon Tuesday
2. Recorded: 1968-01-29. Broadcast: 04 February 1968
Forever Afternoon / Nights In White Satin / Dawn Is A Feeling / What Am I Doing Here?
3. Recorded: 1968-07-16. Broadcast: 21 July 1968. Repeated: 25 August 1968
Voices In The Sky / The Best Way To Travel / Ride My See-Saw / Dr Livingstone I Presume
4. Recorded: 1969-02-18. Broadcast: 23 February 1969. Repeated: 23 March 1969
Send Me No Wine / To Share Our Love / Lovely To See You / Never Comes The Day
Other Shows Played
1969
27 April 1969: Send Me No Wine (LP - On The Threshold Of A Dream) Deram
External Links