"People are amazed to hear that for a few years the best club in Britain was in Erdington" - John Peel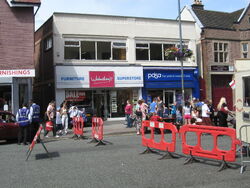 In the late 1960s, John Peel was a regular compere at Mothers club in Erdington, Birmingham, which ran for three years to 1971 and hosted many of the top bands of the era. It was perhaps best known as one of the two venues used for the live sections of the Pink Floyd album Ummagumma. Peel, who was at the 1969-04-27 gig, described the band in his Disc & Music Echo review as sounding like "cries of dying galaxies lost in sheer corridors of time and space" - earning him his first Pseuds Corner entry in Private Eye. In a 1976 interview, Peel cited the Pink Floyd Mothers gig as one of his top two involving the band (the other was in Hyde Park in 1968). [1]
In 1997, Peel contributed a foreword to the book "Mothers, The Home of Good Sounds 1968 - 1971" by Kevin Duffy (Birmingham Library Services).
Peel at Mothers
The list below was initially compiled from the International Times online archive and Marmalade Skies monthly pages (see numbered references). All other listed dates (without numbered references) are sourced solely from Kevin Duffy's "Mothers, The Home Of Good Sounds, 1968-1971", which was also used to confirm other dates. All dates can also be found on the Gigography page, where possible clashes with other events are noted.
1968
June 23: Tyrannosaurus Rex [2] [3] – advertised, but club didn't open until Aug 9.
Sept 15: Tyrannosaurus Rex ("make it to Mothers!") [4]
Sept 28: Keef Harley, East Of Eden
Oct 5: Eclection, Ron Gessin
Nov 3: Joe Cocker [5]
Nov 17: Family
Nov 24: Jethro Tull [6]
Dec 15: The Nice [7]
Dec 22: Ten Years After [8] [9]
Dec 24: Family, Action [10]
Dec 26: Chicken Shack, Tea & Symphony [11]
Dec 31: Jethro Tull, Savoy Brown, Bakerloo Blues Line [12]
1969
Jan 12: Pink Floyd
Jan 19: Who
Jan 26: Nice
Feb 8: Moby Grape. Group Therapy, Giant (US all-nighter)
Feb 23: Fleetwood Mac
Mar 2: Chicken Shack [13]
Mar 9: Spooky Tooth [14]
Mar 23: Crazy World Of Arthur Brown [15] [16]
Mar 30: Country Joe & The Fish [17] [18]
Apr 6: Fairport Convention, Eclection
Apr 13: Fleetwood Mac [19]
Apr 20: Blodwyn Pig, Doctor K [20]
Apr 27: Pink Floyd (see introduction above)
May 4: Principal Edwards Magic Theatre, Blonde On Blonde
May 18: Steppenwolf
May 25: Jon Hiseman's Colosseum, Pete Brown's Battered Ornaments
May 31: John Fahey [21]
June 7: Procol Harum [22]
June 14: Deep Purple, Group Therapy [23]
June 29: Jon Hiseman's Colosseum
July 5: Liverpool Scene, Keef Harley
July 12: Marsha Hunt
July 19: Who
Nov 8: John Drummer Band, Cressida
Dec 26: Groundhogs
1970
Jan 9: John Peel (no listed band)
Jan 23: Medicine Head
Feb 6: Black Sabbath
Feb 20: Siren
Mar 6: Medicine Head
Mar 20: Forest
Apr 3: Asgard
Apr 17: David Symonds, Stackwaddy, Vision Workshop Lights
May 1: Conchise
May 15: John Peel (no listed band)
May 29: John Peel (no listed band)
Links
Community content is available under
CC-BY-SA
unless otherwise noted.