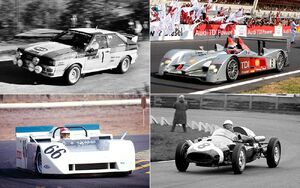 Motor Racing is a global term used to encompass the group of competitive sporting events which primarily involve the use of motorised vehicles, whether for racing or non-racing competition. The terminology can also be used to describe forms of competition of two-wheeled motorised vehicles under the banner of motorcycle racing, and includes off-road racing such as motocross. Four- (or more) wheeled motorsport competition is globally governed by the Fédération Internationale de l'Automobile (FIA); and the Fédération Internationale de Motocyclisme (FIM) governs two-wheeled competition. 
In 1894, a French newspaper organised a race from Paris to Rouen and back, starting city to city racing.In 1900, the Gordon Bennett Cup was established. Closed circuit racing arose as open road racing, on public roads, was banned. Brooklands was the first dedicated motor racing track in the United Kingdom. Following World War I, European countries organised Grand Prix races over closed courses. In the United States, dirt track racing became popular. After World War II, the Grand Prix circuit became more formally organised. In the United States, stock car racing and drag racing became firmly established. Motor Racing ultimately became divided by types of motor vehicles into racing events, and their appropriate organisations.
Links To Peel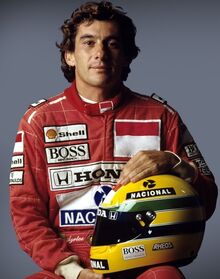 Peel was a fan of motor racing as a child and would often mention his enthusiasm for the sport on his shows. During his years in the USA he lived in areas - Texas, Oklahoma, southern California - where stock car racing and drag racing had a strong "blue-collar" following, and in Margrave of the Marshes (p.154) mentions that his friends in Dallas "introduced me to the wonders of drag-racing, when they took me to Caddo Mills Raceway, Fort Worth".  In early 1960s America the sport became the subject of pop songs, often by artists associated with surf music. Pop historian Jon Savage points out that two songs about drag racing were in the Billboard Top Ten in the week of 18 January 1964, when Peel was living in Dallas, and just before the Beatles and other British groups started to dominate the US charts [1]. 
On the 18 July 1967 Perfumed Garden show, on Radio London, Peel spoke of enjoying the feeling of driving a car on a motor racing track ("It was a slightly sort of erotic sensation driving very fast around Brands Hatch, which is kinky, you know") , after being given the chance to do this by the station, which ran ads offering racing driver courses to its listeners. The station also ran ads for stock car race meetings; these can be heard on the daytime shows hosted by Peel on 12 May 1967 and 01 July 1967. Pirate radio DJs such as Johnnie Walker made personal appearances at stock car meetings but Peel doesn't seem to have been among them, although he developed a liking for the sport later in his career (see below).
A photograph of a group of Radio One DJs at a special DJs Race at Brands Hatch in May 1973 shows Peel as a (disinterested) member of the racing team.[1] A news item in Record Mirror, dated 04 May 1974 (p.5), mentions that Peel would be among the Radio One DJs "expected to drive" at a special 'Radio One D.J. and Pop Star Grand Prix to be held at the Brands Hatch motor racing circuit on Sunday, May 5th.[2] (It's not known whether he actually participated in the event).
On his 09 September 1985 show, he mentioned his interest in motor racing before getting into records, where he collected photographs of the vehicles. He also mentioned on the show that his family were fans of racing driver Ayrton Senna, and that he would like to go to the European Grand Prix at Brands Hatch in a few weeks' time. Peel included Alexei Sayle, football and motor racing among the few entertainments he liked on TV on his 01 November 1989 show, where he described television as mostly not turning him on.
In an interview with Radio Eins on the 18 December 2003 (Radio Eins) show, he regretted not being able to go to Potsdam, Germany more often, because of the town's motor racing circuit (which he'd read about in his childhood) rather than its role in German history.
It is not known whether Peel attended any Grand Prix racing events, but he did attend Mallory Park, a motor racing circuit in the East Midlands of England which was a venue used for Radio One "Fun Days" in the 1970's. Peel described one event at Mallory Park in 1975 as the finest one he ever attended, but not for motor sport reasons - the BBC sub aqua club tried to prevent Bay City Rollers fans from drowning in the lake which borders the racing circuit, and Tony Blackburn was waving to the audience on a speed boat driven by someone who was dressed as a womble. He was struck by the bizarre quality of the scene and it remained with him for life..
The sound effects of drag-racing were used in the song "Dragster" by Johnny Fortune, which caught the attention of Peel in 1964 when he was living in America. It was later used as an intro to his BFBS shows between 1989 and 2001 and at the TT motorbike races on the Isle Of Man, where he wrote an article on the competition for Bike magazine in 1992. Peel would also often play old commentary of the TT races from Murray Walker on his shows. In the early/mid 90's, Peel regularly made an annual visit to the TT races with Andy Kershaw until 1996 when his trip was cut short when his wife Sheila suffered from a brain haemorrhage. Fortunately she made a full recovery. In later life he was also a regular visitor to Foxhall Heath Stadium, Ipswich, the stock car racing track nearest to Peel Acres
In 1999, Peel narrated a series of Classic British Cars, where in one episode he talked about British cars in vintage motor races.
References
↑ Jon Savage, 1966: The Year The Decade Exploded (London 2016), p. 351. The records were the Rip Cords' "Hey Little Cobra" (#6) and Jan And Dean's "Drag City" (#10)
See Others
External Links
Community content is available under
CC-BY-SA
unless otherwise noted.