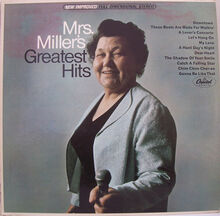 Elva Ruby Miller (October 5, 1907 – July 5, 1997), who recorded under the name "Mrs. Miller", was an American singer who gained some fame in the 1960s for her series of shrill and off-key renditions of popular songs such as "Moon River", "Monday, Monday", "A Lover's Concerto", and "Downtown". Singing in an untrained, Mermanesque, vibrato-laden style, according to Irving Wallace, David Wallechinsky and Amy Wallace in The Book of Lists 2, Miller's voice was compared to the sound of "roaches scurrying across a trash can lid."[1]
Nevertheless, "Downtown" reached the Billboard Hot 100 singles chart in April 1966, peaking at No. 82. The single's B-side, "A Lover's Concerto," barely cracked the Hot 100 that same month at No. 95.
(Read more at Wikipedia.)
Links to Peel
Mrs Miller was renowned for her awful singing, yet had a number of US chart hits in the mid-1960s, when Peel was working in American radio. Back in the UK, the DJ would continue to feature her "unmistakable vocal styiings" on an occasional basis down the decades, offering listeners an abrupt change in pace from his regular fare.
Author David Cavanagh holds up Peel's programming of the "tone-deaf novelty singer" on 26 May 1991 as an example of the DJ close to his eclectic best, displaying "a form of erudite, neo-anarchic, abstract expressionist fearlessness that no other person on British music radio before or since could have begun to imagine how to emulate", with a run of playlist choices that also included the Wedding Present, Humblebums, a dancehall cover of Carly Simon, accordionist Jimmy Shand and 11 noisecore tracks that lasted a total of 15 seconds.[2]
Festive Fifty Entries
Sessions
Shows Played
See Also
External Links
References
↑ Irving Wallace, David Wallechinsky and Amy Wallace, The Book of Lists 2 (1983); ISBN 0-688-03574-4.
↑ Good Night And Good Riddance (Faber & Faber, 2015), pg 11.
Community content is available under
CC-BY-SA
unless otherwise noted.