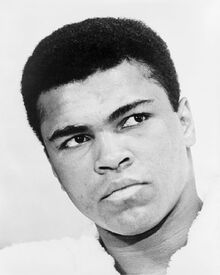 Muhammad Ali (born Cassius Marcellus Clay, Jr., January 17, 1942 – June 3, 2016) was an American professional boxer, generally considered the greatest heavyweight in the history of the sport. Early in his career, Ali was known for being an inspiring, controversial and polarizing figure both inside and outside the boxing ring. He is one of the most recognized sports figures of the past 100 years, crowned "Sportsman of the Century" by Sports Illustrated and "Sports Personality of the Century" by the BBC. He also wrote several best-selling books about his career, including The Greatest: My Own Story and The Soul of a Butterfly. Ali, originally known as Cassius Clay, began training at 12 years old. At the age of 22, he won the world heavyweight championship from Sonny Liston in a stunning upset in 1964. Shortly after that, Ali joined the Nation of Islam and changed his name. He converted to Sunni Islam in 1975, and then to Sufism in 2005.
Links To Peel
Peel claimed to have held the door open for Muhammad Ali on his 08 January 1988 (BFBS) show. It is not known when and where it happened:
'I once held the door open for Muhammad Ali. That's the end of that story really, that's all there is to it. I'd like to be able to tell you that he turned round and punched me in the face or gave me a florin or something, but nothing.'
External Links
Community content is available under
CC-BY-SA
unless otherwise noted.