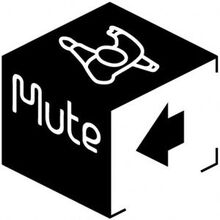 Mute Records
Ltd. is a British independent record label owned and founded in 1978 by Daniel Miller. It has featured several prominent musical acts on its roster such as
Depeche Mode
,
Erasure
,
Fad Gadget
,
Goldfrapp
,
Grinderman
,
Inspiral Carpets
,
Moby
,
New Order
,
[1]
Nitzer Ebb
,
Yann Tiersen
,
Wire
,
Yeasayer
,
Nick Cave and the Bad Seeds
,
Yazoo
, and
M83
.
During 1978, Daniel Miller began recording music, using synthesisers, under the name The Normal. He recorded the tracks "T.V.O.D." and "Warm Leatherette" and distributed them through Rough Trade Shops under the label name Mute Records. The label was formed initially just to release the one single. "T.V.O.D."/"Warm Leatherette" became a cult hit ensuring the future of the label.
In May 2002, Mute Records was bought by EMI for £23m. Daniel Miller remained in charge of the company's global activities. EMI kept the rights of the Mute archives when Miller took the company independent in 2010.
(Read more at Wikipedia.)
Links to Peel
Peel was an early supporter of Mute Records, giving airtime to debut single release 'Warm Leatherette / TVOD' by label founder Daniel Miller as The Normal in May 1978,[2] [3] as the DIY bedroom operation quickly developed into one of the UK's leading independent labels, focusing especially on electronic music.
The DJ was also a huge fan of Miller's swift switch as a recording artist to unlikely synthpop cover versions of rock and roll classics, under the Silicon Teens alias. Other early releases from Mute, including albums by Deutsch Amerikanische Freundschaft and Fad Gadget, were also featured on late-night Radio One.
As a regular Top Of The Pops presenter between 1982 and 1987, Peel witnessed at first hand the sustained chart success of Mute band Depeche Mode and offshoots such as Yazoo, Erasure and Assembly, who deployed the vocal talents of former Undertones singer Feargal Sharkey. While Yazoo did record a single Peel session, the DJ appears to have viewed such commercial fare as largely outside his radio remit, but the label also continued to release artists far from the mainstream, including Slovenian industrial session band Laibach and experimental German outfit Einstürzende Neubauten.
Despite the label's association with electronic music, Mute provided a new home for Peel favourites Birthday Party, and subsequently Nick Cave & The Bad Seeds, after their departure from fellow indie label 4AD, as well as a reformed Wire in the second half of the 1980s, following releases for earlier projects of former members.[2] Another arrival was Mark Stewart, once of the Pop Group.
Elsewhere, Mute sub-label Blast First emerged as a firm favourite of the DJ, focusing on US alternative rock such as session bands Sonic Youth and Big Black, while electronic dance music subsidiary NovaMute also gained airtime, with releases by Cristian Vogel, Si Begg and others. There were also early links with Peel-approved Warp Records of Sheffield, via Mute dance offshoot Rhythm King (Cookie Crew, S-Express, etc). Meanwhile, the Mute group started to pick up rights to reissue classic catalogue recordings by vintage Peel-supported artists such as Throbbing Gristle, Can and Cabaret Voltaire.[4]
In the 1994 Festive Fifty, Mute secured top spot in the show's annual listeners' chart with 'I Want You' by Manchester band Inspiral Carpets (featuring Mark E Smith).
Largely left out of the Britpop boom, Mute found fresh stability in the new century with the surprise worldwide success of Moby's sample-heavy album 'Play' (1999), opening the way to the label's sale to EMI in 2002. With Daniel Miller still in place despite the ownership change, Peel featured continuing releases in a series of 'Rough Trade Shops' compilations put out by Mute, which would return to the independent sector early in the following decade.
In April 2004, Peel played two sets at a Mute label night with Wire and others at the Tramway, Glasgow, as part of the "Triptych 04" festival. [5] [6] [7]
Following the DJ's death in late 2004, Miller publicly recalled Peel's early radio support for 'Warm Leatherette'[8] and described his on-air praise for the Silicon Teens version of 'Memphis Tennessee' as "one of the biggest moments in my entire career in music."[3]
Sessions
Mute artists who recorded Peel sessions. List includes sessions when the artists were not on Mute.
Add N to (X): (4 sessions, 1997-2002)
Afghan Whigs: (1 session, 1994)
Apparat: (1 session, 2004)
Appliance: (4 sessions, 1998-2002)
Birthday Party: (4 sessions, 1980-82)
Cabaret Voltaire: (2 sessions, 1981-84)
Can: (4 sessions, 1973-75)
Nick Cave and the Bad Seeds: (1 session, 1984)
Clock DVA: (1 session, 1983)
Deutsch Amerikanische Freundschaft: (1 session, 1979)
Echoboy: (3 sessions, 1999-2003)
Einstürzende Neubauten: (1 session, 1983)
Richie Hawtin: (3 sessions, 1994-2004)
Holger Hiller: (1 session, 1987)
Inspiral Carpets: (4 sessions, 1988-90)
Laibach: (2 sessions, 1986-87)
Liars: (2 sessions, 2002-04)
Lift to Experience: (2 sessions, 2001)
New Fast Automatic Daffodils: (3 sessions, 1989-1993)
New Order: (3 sessions, 1981-98)
Pussy Galore: (1 session, 1990)
Renegade Soundwave: (1 session, 1987)
Luke Slater: (2 sessions, 1994-2000)
Jon Spencer Blues Explosion: (1 session, 1993)
SPK: (1 session, 1983)
Wire: (5 sessions, 1978-2002)
Yazoo: (1 session, 1982)
Festive Fifty
The list below covers Festive Fifty entries on Mute; it does not include entries by Mute artists on other labels.
Compilations
Peel plays of various artist (v/a) albums released on the Mute label. For v/a releases on the Blast First subsidiary, see dedicated label page.
(CD - 14 Irregular Files - A Mute Accumulation)
Rough Trade Shops
(4xCD - Rough Trade Shops 25 Years)
(7" EP - Rough Trade Shops: Rock And Roll 1)
(2xCD - Rough Trade Shops - Counter Culture 2002)
(2xCD - Rough Trade Shops Post Punk 01)
See Also
Links
References
↑ The former Factory Records stalwarts released their first album on Mute, 'Music Complete', in 2015.[1]
↑ Miller himself had worked with Wire's Graham Lewis and Bruce Gilbert as Duet Emmo, who were played by Peel.
↑ Synth Britannia (YouTube), interview from 36.05.
Community content is available under
CC-BY-SA
unless otherwise noted.