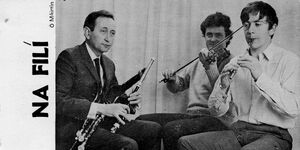 Na Filí (Irish for The Poets) was an Irish folk group founded by Uilleann piper Tomás Ó Canainn, fiddler Matt Cranitch and whistle player Tom Barry in the late 1960s and 1970s. They gained considerable popularity throughout Ireland and recorded several albums. In 2013, Tomás died in The Mercy Hospital in Cork City, Ireland at the age of 82 years old.
Links to Peel
Peel played many Irish folk tunes on his shows during the 70's, especially in versions by a new wave of instrumentally fluent groups such as Na Fili, Horslips, Chieftains, and Planxty. He invited many of those artists to do sessions for his programmes, including Na Fili, who did three sessions between 1974 and 1976.
Apart from that, the DJ didn't seem to pay much attention to their records, as no show plays are found in currently available playlists. They were less well-known outside Ireland than the other bands mentioned above; after 1978, they released no more records, so they may well have broken up around then..
Sessions
1. Recorded: 1973-07-02. Broadcast: 17 July 1973. Repeated: 31 January 1974
Ar Eirinn / Jigs: Gander In The Pratie Hole/Humours Of Donnybrock/Why So? / Catlin Triall / Mary From Ballyhaumis
2. Recorded: 1974-07-13. Broadcast: 25 July 1974. Repeated: 05 September 1974
Polkas / Kitty Tyrrel / Slip Jigs And Reel / Unknown Title
3. Recorded: 1976-07-06. Broadcast: 20 July 1976. Repeated: 09 September 1976
Trip To Athlone / Deus Meus / Dalaighs / Calt Nt Dhuirhir
Other Shows Played
None, according to available playlists
External Links
Community content is available under
CC-BY-SA
unless otherwise noted.