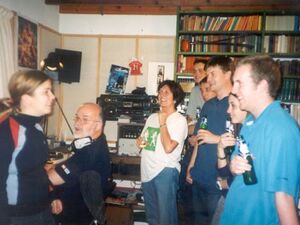 Nab Woodley was a multiple-use name, a neoism informally adopted and shared by some people. Although the words 'nab Woodley' was used in a sentence in the detective book, The Bradshaw Mystery, published in 2000 and written by John Waddington-Feather, it was basically a pseudonym used by the group when sending emails to Peel. Nab Woodley was a merger of the names Noel Lobley and Ben Wood, both members of the group. The group was formed after Peel mentioned on air that he was not fit to personally deliver records to competition winners. Therefore the group with Peel's blessings took over the task in collecting the records from Peel Acres and sending them personally to competition winners. The ensemble also did extra chores for Peel such as sorting out his record collection.
Links To Peel
The Nab Woodley's helped Peel in various tasks free of charge, such as sending out records to prize winners, providing a cockerel on his birthday, where he named it Nab after the collective; sorting out his record collection in Peel Acres and also travelling to Kenya to buy over a hundred 7" singles that Peel made an appeal on his radio show. The group were first mentioned by Peel in the early 00's and their connection to him ended after his death.
Mentioned In Shows
2002
External Links
Community content is available under
CC-BY-SA
unless otherwise noted.