The Nectarine No.9 were an indie band from Edinburgh, Scotland. Formed by former Fire Engines frontman Davy Henderson in 1991, the band's music has been described as "dark, moody and brilliant"[3] "noisy guitar rock"[4] with "quirky rhythms". The Nectarine No. 9 released several albums throughout the 1990s and 2000s.
(Read more at Wikipedia.)
Links to Peel
Nectarine No.9 were mainstays of the Peel show over the last decade of the DJ's life, recording five sessions and two further live sets for him, including from a double-header with Yo La Tengo at Queen Elizabeth Hall, London, in 1999. The previous year, the band had appeared with others on the Creeping Bent roster at a label live special when Peel curated the Meltdown festival at the same venue.
Davy Henderson, the band's diving force, had earlier been with influential 80s Scottish indie outfit Fire Engines, who did two Peel sessions and earned a 1981 Festive Fifty entry with "Candy Skin".
On 24 April 1993, before the first track of the debut Nectarine No.9 session was broadcast, Peel publicly welcomed the musician back to his show after an extended absence.[1] In a bold opening gambit that won Peel's approval, the band's first session kicked off with a cover of a tune by one of his favourite artists. When the session was later repeated, the DJ commented:
"There aren't that many bands who can pull off a Captain Beefheart cover, but I think they do."[2]
Appealing to Peel's soft spot for cover versions, later sessions from the band would include interpretations of vintage numbers from Sun Ra and Nico.[3] The DJ would also play their reading of 'Temptation Inside Of Your Heart' by Velvet Underground.[4]
In 2004, the final Nectarine No.9 album featured contributions from Malcolm Ross (formerly of Peel session band Josef K) and Gareth Sager (Pop Group, Rip Rig + Panic).[5]
Festive Fifty Entries
Sessions
Five sessions, although the BBC site lists seven, including two live sets. #1 available on the Postcard Records CD - Guitar Thieves. #1 and selections from other sessions on Saint Jack, 2xCD reissue, 2015 (Forever Heavenly FHVNLP5CD).
Davy Henderson also two sessions with Fire Engines (both 1981).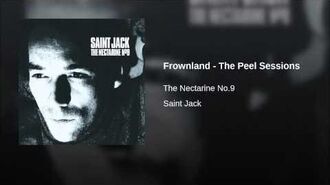 1. Recorded 1993-03-24. First broadcast 24 April 1993. Repeated: 21 August 1993.
Frownland / Unloaded For You / Pull My Daisey /Going Off Someone
2. Recorded 1994-03-24. First broadcast 09 April 1994.
Couldn't Phone Potatoes / This Holes Been Burned Too Many Times Before / These Days / You Can't Scratch Out
3. Recorded: 1995-05-02. First broadcast 27 May 1995.
Tape Your Head On / Firecrackers / Adjusted Timepiece / Thunder Over Kilburn Automatic
4. Recorded 1998-03-03. First broadcast 03 June 1998. Repeated: 19 November 1998.
Rocket No 9 / Soon Be Over Soon Be Over / Adidas Francis Bacon / Three Moans At The Base Of A Crucifixion
5. Recorded: 2001-03-04. First broadcast 20 March 2001.
Pong Fat 6 / Pocketradiodrops / Found Things / It's Raining For Some Cloudy Reasons
Live
20 October 1995: recorded live at King Tut's Wah Wah Hut, Glasgow, 1995-10-19.
This Arsehole's Been Burned Too Many Times Before
Clipped Wings & Flower Strings
Firecrackers
Unloaded For You
Found Things
(sic)
Constellations Of A Vanity
Going Off Someone
Other Shows Played
1993
1994
1995
1998
1999
2000
2001
2004
Others
See Also
External Links
References
Community content is available under
CC-BY-SA
unless otherwise noted.