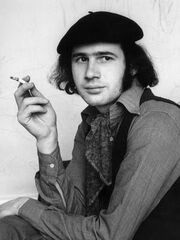 Neil James Innes (09 December 1944 - 29 December 2019) was an English writer, comedian and musician, best known for his collaborative work with Monty Python, and for playing in the Bonzo Dog Doo-Dah Band and later The Rutles. (Read more at Wikipedia)
Links to Peel
John Peel was a keen supporter of the Bonzo Dog Band, an act that was featured extensively on his shows, with seven sessions during the band's lifespan and album plays that would endure until the 2000s. Neil Innes wrote and sang some of the Bonzo Dog Band's best-known material, including their singles "I'm The Urban Spaceman" and "Mr. Apollo". The DJ liked Innes's "Death Cab For Cutie", from the band's debut LP Gorilla, describing it in International Times as a "beautiful cliche teenage mutilation fun 1955 hiccup song" which "should drive Mick Farren into spasms of faintly unattractive excitement"[1]. The song was performed by the Bonzos in the Beatles' film Magical Mystery Tour and its title was taken as a name by an American "alternative rock" band which formed in 1997 and picked up some Peel show airplay in the early 2000s.
After the Bonzos split up, Innes became part of Grimms, along with former members of Liverpool Scene and Scaffold, and Peel introduced them on a Radio One In Concert show on 08 April 1972. JP's appreciation of Monty Python and the fact that he was on good terms with Innes led to the singer being booked for three sessions during the 70s. On 26 January 1991, Peel played the Galaxie 500 rendition of the Innes-penned 'Cheese And Onions', from a covers compilation of Rutles tunes.
Peel and Innes remained friends throughout the DJ's life. On 07 April 1981 Peel gave an account of a charity gig he had attended the previous night with Innes and John Gorman. Unfortunately it didn't go well, with the DJ being unnoticed by virtually everyone, including the people who had organised the event. On 11 July 2002, Peel phoned up Innes at home because he wanted to play a particular Bonzo Dog Band track whose title he couldn't recall ("Slush").
Sessions
Three sessions. No known official release.
Also seven sessions with Bonzo Dog Band.
1. Recording date: 1972-07-11. First broadcast: 04 August 1972. Repeated: 15 September 1972.
How Sweet to Be an Idiot / I Give Myself to Me / Momma B / Every Time / Children's Song
2. Recording date: 1974-01-31. First broadcast: 07 February 1974.
Bandwagon / Twyford Vitromant / Momma B / Dream On/L'Amour Perdu / Disney Waltz / This Love Of Ours
3. Recording date: 1977-05-18. First broadcast: 24 May 1977.
Drama On A Saturday Night / Randy Raquel / Queen Elizabeth / Cheese And Onions
Other Shows Played
(Please add more information if known)
See Also
External Links
Community content is available under
CC-BY-SA
unless otherwise noted.