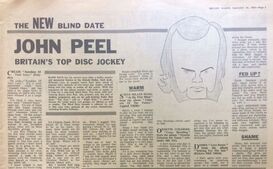 New Blind Date was a feature in Melody Maker started in September 1968, where celebrities reviewed singles along with album tracks of the week, without being told at first who they were by. This was a successor to Blind Date, which focused on singles of the week. After a few weeks the "New" was dropped and the feature continued under the name Blind Date, although with a more varied range of records and guests than before.
Links to Peel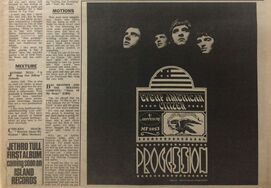 Peel was the first person on New Blind Date to give his opinions on singles and album tracks, in the Melody Maker issue dated 28th September 1968.
It's not known who played the records to Peel, but it may well have been MM reporter Chris Welch, who had writtien a highly critical article on American groups in a previous issue of the paper, which included a rubbishing of Peel's favourite Captain Beefheart and an equally dismissive verdict on the Doors' lead singer Jim Morrison. Peel comments that he didn't agree with "what you wrote" in general, but after having seen the Doors at the Roundhouse he was in partial agreement with Welch's opinion of the group.:
See Others
Community content is available under
CC-BY-SA
unless otherwise noted.