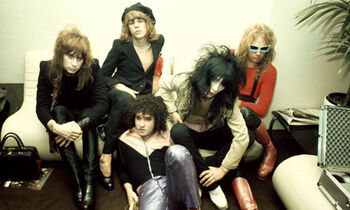 "Would you despise me if I told you that I never really liked the New York Dolls very much?" (Peel 016 (BFBS))
The above quote highlights the fact that JP considered the Dolls extremely over-rated, although they are frequently cited as an influence on
punk
: allmusic.com states that
"(they) created a new form of hard rock that presaged both punk rock and heavy metal. Their drug-fueled, shambolic performances influenced a generation of musicians in New York and London, who all went on to form punk bands."
Raucous, over the top and featuring an abrasive guitar sound courtesy of
Johnny Thunders
(1952-1991), one that
Stereo Review
magazine compared unfavourably to lawnmowers, the band initially had a short and turbulent career. Formed in New York City in 1971, the line-up has constantly featured David Johansen (1950- ) who bears a striking physical and vocal resemblance to Mick Jagger. Their first major break came when
Rod Stewart
added them as support to one of his London concerts. When they recorded a session for the
Old Grey Whistle Test
in 1973 during a European tour, host
Bob Harris
labelled them
"mock rock"
and saw them as a second-class
Rolling Stones
(probably as a rebuff to Johansen's telling him he had 'bunny teeth' before they went on air).
Their eponymous debut LP was produced by Todd Rundgren and was glowingly reviewed on its appearance in 1973: it contained protopunk classics such as Personality Crisis, Looking For A Kiss and Jet Boy. However, the second album, prophetically titled Too Much Too Soon, led to the end of their deal with Mercury Records and the band were in a downward spiral of in-fighting and drug abuse when Malcolm McLaren became their manager for a short time in 1975, unsuccessfully replacing their glam image of high heels and make-up with one of red leather and using Communist imagery in their live shows. Thunders left that year and formed the Heartbreakers. The band were influential on many, including Flesh For Lulu, and were favourites of Morrissey, who organised a reunion gig in 2004 with the surviving members: this led to three further albums. However, Peel, while acknowledging their legacy, would actively refuse airplay or sessions to bands who cited them as an influence: as he said, "not one of me favourites." (10 December 1976): in fact, it appears he generally played their songs to satisfy listener requests rather than his own preference.
Festive Fifty Entries
Sessions
Other Shows Played
External Links
Community content is available under
CC-BY-SA
unless otherwise noted.