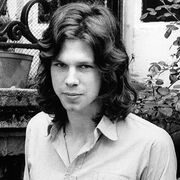 Nicholas Rodney "Nick" Drake
(19 June 1948 – 25 November 1974) was an English singer-songwriter and musician, known for his acoustic guitar-based songs. He failed to find a wide audience during his lifetime but his work has gradually achieved wider notice and recognition. Drake suffered from depression, particularly during the latter part of his young life. This was often reflected in his lyrics. On completion of his third album, 1972's Pink Moon, he withdrew from both live performance and recording, retreating to his parents' home in rural Warwickshire. On 25 November 1974, Drake died from an overdose of amitriptyline, a prescribed antidepressant; he was 26 years old. Whether his death was an accident or suicide has never been resolved. (
Read more at Wikipedia
)
Links to Peel
Nick Drake did one Peel session, for the "son of Night Ride" show in 1969. For a long time, since no complete tape of the session surfaced, and since the BBC doesn't have the master tape anymore on their archives (presumably because Night Ride's nameless successor went out on medium wave only, was disliked by the Radio One hierarchy and was soon afterwards taken off the air), that session was always one of the most sought-after ones and many listeners asked Peel for a repeat. On 06 July 1999 Peel replied to one of those inquiries:
"It's a difficult question. It was supposed to be an expiry date of I think about three or four months on sessions. Of course, it was very much the BBC's way at the time that there was no provision made for keeping popular music sessions because they were held to be pretty much valueless, and for a long time they just existed in boxes alongside of the corridor, and (John) Walters and myself gradually found places where we could hide them and keep them away from the people who wanted to destroy them, but it didn't go very well to begin with. It's one of those things where the BBC at the time, very much something like, Gardener's Question Time, episodes of that would be kept in a lead-lined case at the bottom of a mineshaft somewhere in the Home Counties for all of recorded time if possible, but something like a Pink Floyd session would be erased within weeks. You know, very strange business altogether. So I'm not sure whether that Nick Drake session still exists. cos a lot of sessions from that time, maybe one or two tracks are still around, the others have just disappeared over the years".
In summer 2014, it was announced that an upcoming box set of a Nick Drake biography would include the 1969 Peel session on 10" vinyl.[1] For a long time, only two songs of the session ("Time of No Reply" and "Three Hours") were available, in an incomplete form, in trading circles. The website for the British Newspaper The Guardian, had received permission from the Drake estate to stream a track that wasn't available before: "Cello Song" [2]. With the surfacing of an existing tape of the session, it was also discovered that an extra track not listed on logs was recorded and aired: "Bryter Layter". 
Although Peel did not seem to be hugely impressed by Drake's music during the singer's life, it is likely that occasional plays of tracks from the singer's "Bryter Layter" and "Pink Moon" LPs will be found in playlists of shows from 1970-1972, which are as yet unavailable. These albums were produced by Joe Boyd, who also produced Peel show regulars Fairport Convention and the Incredible String Band, so the DJ would have listened to them with interest.
Nick Drake did make an impression on Peel's Night Ride colleague Jon Curle, after a session by him (probably the repeat of his Peel session) was broadcast on Curle's Night Ride show of 24 September 1969[3]; Curle also played tracks from the "Five Leaves Left" album on his editions of the show. Perhaps because of this, the singer recorded a second BBC session in 1970; it went out on the Night Ride of 13 April 1970, presented by Colin Nichol, although the session tracklisting is not known at present.
In 2015, TheSpace website and John Peel Archive released details of a themed selection of discs from Peel's record collection telling the story of the music world of Nick Drake. (See Record Boxes: Pete Paphides).
Festive Fifty Entries
Sessions
One session. Released on a 10" vinyl included in the deluxe edition of Nick Drake's first authorized biography "Remembered for a While" and digitally as "The John Peel Session".
1. Recording date: 1969-08-05. First broadcast: 06 August 1969
Time of No Reply / Cello Song / River Man / Three Hours / Bryter Layter
Other Shows Played
(Please add more information if known)
05 August 1986: The Thoughts Of Mary Jane (LP - Time Of No Reply) Hannibal
05 January 2000: Northern Sky (LP-Bryter Layter)' (Island) 'Festive Fifty ''''#43 '''(JP: 'And I often wonder what poor Nick would make of the respect in which his music's held now)
21 October 2004: Time Has Told Me (Robert Smith)
Cover Versions
(Please add more if known)
See Also
External Links
Community content is available under
CC-BY-SA
unless otherwise noted.