Beginnings
Night Ride was the name given in 1967 by the BBC to the show which went out nightly, between 12 midnight and closedown at 2 a.m., on the combined frequencies of Radio One and Radio Two. It was an easy listening, "light music" show designed for night shift workers and insomniacs, with "non-needletime" music and established DJs from the old Light Programme (now Radio Two); they included Robin Boyle, Bruce Wyndham, John Dunn, Ray Moore and Jon Curle.
In March 1968, a radically different Night Ride appeared on Wednesday nights, with the first hour presented by John Peel. According to Ken Garner's The Peel Sessions, the show had grown out of an original idea by producer John Muir for a programme of folk music, poetry and world music drawn from the extensive holdings of the BBC Archives. Muir met Peel's manager Clive Selwood, who told him that his client's future on Top Gear was still uncertain. Muir suggested that Peel do a pilot show, Peel did so and it was submitted to station controller Robin Scott, who described it as "a Perfumed Garden type show, which I am considering for a late night slot". As Radio One closed down at teatime and Radio Three - at the time a bastion of traditional and modern "high culture" - was still hostile to anything resembling "pop", the only late-night slot available on the BBC was on Night Ride.
Peel's Night Ride contrasted with his other BBC show, Top Gear, in its concentration on the more esoteric and "minority" aspects of the late 1960s underground culture. While most 1967-69 Top Gear sessions were by pop or rock bands and singers, Night Ride often focused on the acoustic music emerging from the contemporary end of the folk scene. Each programme also featured a guest poet reading his or her work, BBC archive tracks of rare music from around the world, and various studio guests.
In his late 1967 columns for International Times Peel stressed the need for compromise in his work for the BBC, advising his listeners, who had hoped for a show resembling the Perfumed Garden, to "be patient with Top Gear" ("People are writing sad letters forgetting that this is taking a long time"). [1] Night Ride initially seemed to be a continuation of the Perfumed Garden; the first record on the first programme was by PG favourites The Misunderstood, and the session guests were the Incredible String Band, whose music he had also featured heavily on his Radio London late-night show. Yet Night Ride differed from the Perfumed Garden in several respects: it was a "non-needletime" show, so Peel had little chance to play his favourite records; it was only 55 minutes long, so there was no time to read out long passages from listeners' letters; and instead of being alone in the studio he was obliged to interview, often somewhat awkwardly, a succession of studio guests. It also reflected the change from the dreamy, post-Sergeant Pepper idealism of summer 1967 to the more confrontational mood of 1968. Although Peel himself remained the gentle hippy, some of his guests took a more activist stance - for example the poet Adrian Mitchell, guesting on the first programme, spoke of taking part in anti-Vietnam War protests involving the use of red paint as a symbol of blood shed in the conflict..
Praise, criticism and poetry
Predictably, audience response to Peel's Night Ride was mixed. While Peel's keen listeners were delighted, those expecting the familiar Night Ride format were sometimes horrified and made their feelings known. In his columns in International Times, Peel commented on some of the disapproving letters he received:
Following the first of the Wednesday night programmes, featuring the Incredible String Band and Adrian Mitchell, came a flood of angry and bewildered letters. Many of these were of the "I-fought-the-war-for-the-likes-of-you" variety and I was variously described as "effeminate", "ignorant", "gushing" and "communist"......(IT 28, p.11)
There have been some amazing letters. "That John Peel has such a COMMON voice and the poets are so vulgar". "I've listened to all of your programmes and have hated everything you've ever played". "It sounded as though every record on Night Ride was played backwards". That last was signed "A Nightwatchman, Bermondsey" which was almost too good to be true. It is all involvement of a sort though, I suppose, and preferable to lying around snapping the fingers and saying "Wow, groovy, man" to each and every record indiscriminately. (IT 37, p.12)
In the same IT column Peel states that
The whole point of Thursday morning's "Night Ride" has been to play and do so many different and, hopefully, good things that the casual listener, having made the initial choice between listening and turning off, cannot help but be touched by some part of the programme. This does seem to be working as the listening figures crawl upwards. (IT 37, p.12)
There were others at the BBC who supported him in this aim, and the programme did win some significant critical approval. In a Radio Times discussion (2 April 1970, quoted in Asa Briggs, History of Broadcasting in the United Kingdom, vol. 5, p.802), George Melly praised Night Ride's adventurous spirit, while the poet and radio producer George MacBeth described it as illustrating how art and mass culture could "join hands for a new audience by mixing poetry & pop music" (quoted in Asa Briggs, History of Broadcasting in the United Kingdom, Oxford 1995, vol. 5, p.739). Its eclecticism also reflected how artists like the Beatles, and their more adventurous listeners, were developing much broader musical and cultural interests than radio programmes usually acknowledged. Peel featured not only folk, blues, rock and pop alongside the archive tracks which became a staple of the programme, but also pieces of classical or "serious" music, from Scarlatti and Pachelbel to Messaien, Penderecki and Terry Riley.
Another unique aspect of Peel's Night Ride was the guest poet. This too followed on from the Perfumed Garden, which had featured both the Incredible New Liverpool Scene LP, with the poetry of Adrian Henri and Roger McGough, and Peel himself reading the work of the Liverpool poets as well as poems sent in by his listeners. Poetry had been influential in the development of the British underground since the famous Albert Hall poetry concert in 1965, which was a surprise sell-out and has been seen as its first major gathering. Paperback anthologies featuring the work of the Liverpool poets and their contemporaries had sold well; there was an upsurge of small poetry magazines and live readings.
The poets who appeared on Night Ride were drawn from this "scene", generally non-establishment figures at a distance from the literary mainstream. Some, like Cream's lyricist Pete Brown and Christopher Logue, who had taken part in poetry and jazz sessions inspired by the American Beat poets and had written lyrics for Donovan, had connections with pop music, There was a widespread belief in the late 1960s, which Peel shared (see his remarks after playing Adrian Henri's "Tonight at Noon" on the final Perfumed Garden) that songwriters such as the Beatles, Bob Dylan, Paul Simon and Donovan could be thought of as poets. Accordingly, the poet turned singer-songwriter Leonard Cohen became a Peel favourite in 1968-69, while Marc Bolan of Tyrannosaurus Rex appeared as a poet on the programme, reading from his collection The Warlock of Love.
Controversy, "son of Night Ride" and the end
Night Ride lasted 18 months, from March 1968 to September 1969. In early 1969 Robin Scott, who is identified in Ken Garner's The Peel Sessions as the Radio One Controller most sympathetic to Peel, left the station. This was followed by producer Bernie Andrews' removal from Top Gear, which lost its Sunday afternoon prime time slot. At the same time, from 30 April 1969 until its end on 24 September 1969, Peel's Night Ride was moved to Wednesday evenings at 8.15, placed in the middle of a sequence of "specialist" programmes audible on medium wave only, [2].  The show - now called by Peel the "nameless show" or "son of Night Ride" - had not only divided the BBC's late night listening public but had displeased the more conservative elements in the BBC hierarchy. Not only did Peel seem to represent the drug-related hippy culture they loathed, but he expressed support for many of the protests of 1968; the anti-Vietnam War movement, the student revolt, the rejection of militarism - as did many of his guests on Night Ride.
Three Night Rides proved particularly controversial. In November 1968 the satirist John Wells guested on the programme and criticised the then Prime Minister Harold Wilson for an alleged indifference to the suffering caused by the civil war in Nigeria (pictures of starving children in the rebel province of Biafra were at the time unavoidable, both in newspapers and on TV). Wilson, notoriously sensitive to media criticism, demanded an apology from the BBC, which Peel was obliged to read out on the following programme[3]. On 11 December 1968 John Lennon and Yoko Ono appeared on Night Ride to be interviewed, to promote their album "Two Virgins" and to preview, with Peel and poet Christopher Logue, the forthcoming "Alchemical Wedding" happening/concert; there were complaints that the material they read out was "suggestive". Peel vigorously countered this argument in his IT column.[4] Then, on 28 May 1969, Peel admitted he had had VD, in the course of an interview with Tony van den Bergh of Radio 4, who was due to present a programme aimed at reducing the stigma associated with the subject. Peel's account of the behaviour of visitors to the VD clinic he attended was wry and amusing, but led to calls for his sacking from some voices in the popular press.
However, these incidents did not lead directly to the end of Night Ride; as Ken Garner points out in The Peel Sessions (p.52), the show was unpopular with Radio One's new management, so it was "allowed to continue, under sentence of death, before being axed in September". This is shown by the Radio Times listings, which simply described the show as "John Peel explores the world of sounds and words", but - in contrast to the folk and jazz shows which bookended it in the schedules - gave no details of the session guests. According to a Melody Maker report, the BBC claimed that the show was taken off the air because of a decison to combine Radios 1 and 2 during the winter period, when interference on medium wave broadcasts increased; Peel's show was said to be "unsuitable" for a combined audience[2]. The final show on 24 September 1969 closed out with Peel playing Bob Dylan's "Desolation Row".[5] While the traditional midnight to 2 a.m. Night Ride slot continued on Radios One and Two until the mid-1970s, with an increasing number of sessions from folk and acoustic artists, the format of a wide-ranging exploration of words and music (as the BBC had originally described Peel's Night Ride) was abandoned.
Aftermath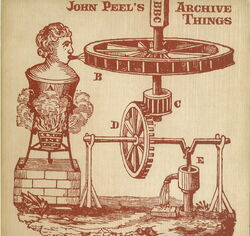 An LP entitled
John Peel's Archive Things
was issued by BBC Records in 1970, with a selection of the most popular archive tracks he had played during the show's run, and sleevenotes in which he expressed an enthusiasm for a free-form radio format in which anything might happen. But Peel never again presented such an adventurous programme; the BBC's tight programming schedules made free-form radio impossible and most of the American "underground" FM radio stations which had introduced such open formats gradually turned into commercial stations playing "album-oriented rock" . A 1970 article in International Times on censorship in the BBC even suggested that Peel was now working under a "special contract"
[6]
, which forbade him from expressing his opinions on non-musical matters during his shows.
Spoken word content did not disappear completely from Peel's later programmes, even if the regular guest poet ended with Night Ride. Ivor Cutler, a long-term Peel favourite, made his session debut on a 1969 "son of Night Ride", while Vivian Stanshall's "Sir Henry at Rawlinson End" gained a following in the 1970s. The poetry of John Cooper Clarke and Benjamin Zephaniah was also featured on Peel shows in the post-punk era. But arguably it was Radio Three which inherited the spirit of Night Ride when, in the late 1990s, it introduced a number of late-night programmes of music from different cultures, bridging the gap between "entertainment" and "art" forms. These included Mixing It, shows by Peel's colleague and friend Andy Kershaw, and Late Junction (whose presenter Verity Sharp was praised by Peel in his Radio Times column). Yet even though there was no literary or explicitly political content in these programmes, they too provoked a backlash from the station's more conservative listeners. By this time, however, the key idea introduced by Peel's Night Ride, namely that the listener might have enough curiosity to be interested, rather than alienated, by programmes of varied and unfamiliar music, had become more widely accepted.
See Also
External Links
1968 Guardian article on JP, mainly about Night Ride.
References
Community content is available under
CC-BY-SA
unless otherwise noted.