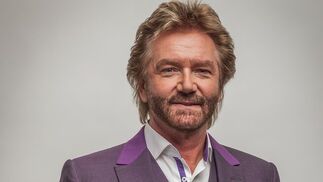 Noel Ernest Edmonds (born 22 December 1948) is an English broadcaster and executive, who made his name as a DJ on BBC Radio One in the UK. He has presented light entertainment television programmes, including Multi-Coloured Swap Shop, Top of the Pops, The Late, Late Breakfast Show and Telly Addicts. He currently presents the Channel 4 game show Deal or No Deal, and formerly the Sunday edition of Sky1's Are You Smarter than a Ten Year Old? and the topical Sky1 show, Noel's HQ.
Links to Peel
The relationship between Peel and Edmonds was similar to the one he had with Tony Blackburn: John characterised the DJ as a man whose main aim of life was showbiz celebrity rather than music. This was ironic, as Edmonds, like Peel, had first attracted attention as presenter of a late night programme, in his case on Radio Luxembourg. In February 1969, a report on the station in Melody Maker stated that Edmonds "who does the late show...has a big broadcasting future ahead of him"[1]. Indeed Edmonds was signed by the BBC at the age of 21 and soon established himself on Radio 1, in 1970 hosting a Saturday afternoon show which preceded Top Gear. In that year he was interviewed by Record Mirror and remarked, "I hate the music that he features, but I admire John Peel".[2] In 1973 he succeeded Tony Blackburn as host of Radio 1's breakfast show, but in the meantime he also steadily built a career as a TV show presenter, which Peel followed with a kind of horrified fascination.
JP rarely missed an opportunity for sarcastic digs at his colleague, on one occasion calling him a TV compere with a ludicrous haircut [3]. On My Top Ten (Transcript) he saw Edmonds as one whose only talent lay in constantly hogging the limelight:
"... People do think DJs are millionaires because they see someone like Noel Edmonds, who has actually achieved that wonderful thing we all want to achieve, where you actually just become famous for being famous, you know what I mean. You don't actually have to do anything except be Noel Edmonds, you know, which is just a wonderful state of affairs in a way. So you have to get the balance right, you know. And I'd sooner – I like my children, I like my wife, I like where I live."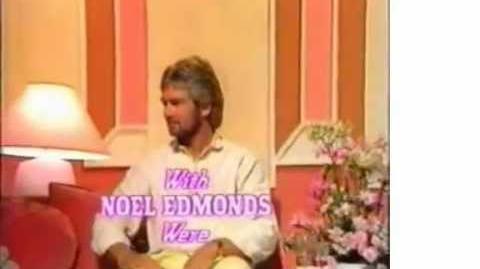 Peel was among the presenters when the TV programme for
The Noel Edmonds Late, Late Breakfast Show
(1982-1986), kicked off its early Saturday evening run in 1982, hosting outside broadcast segments. Peel mentioned his appearance on an early programme on his own regular
06 September 1982
show on Radio One:
"On Saturday I took part in the Late, Late Breakfast Show and was I thought rather embarrassing. I hope you didn't actually see it. I was so panic stricken that I read through my little piece in about half the time allocated to me and then cleared off in despair and afterwards was reassured actually by an affable woman who was working on Grandstand who'd travelled with me on the tube."
Peel's association with prime time early Saturday night TV was not to be a long or happy one. In Margrave Of The Marshes (Bantam Press, hardback edition, pg 322-3) wife Sheila Ravenscroft recalled:
"John was introducing a stunt in which the driver Richard Smith attempted to break the world car-leap record live on air, only to flip the car over. For some bizarre reason, John seemed to get the blame for the incident and was subsequently dropped from the show; possibly he was thought to be a jinx."
In 1989, Peel played a track from
I, Ludicrous
called
Stuck In A Lift With Noel Edmonds
, but found himself comparing Edmonds favourably with another celebrity:
"I think I'd find that preferable to being stuck in a lift with Jimmy Tarbuck: that I really couldn't cope with, to be honest. I'd ritually disembowel meself all over him." [4]
External Links
Community content is available under
CC-BY-SA
unless otherwise noted.