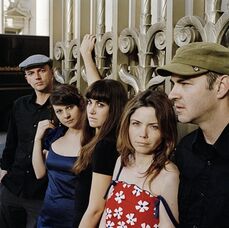 Nouvelle Vague are a French band specialising in cover versions of new wave and post-punk songs in a bossa nova or lounge style. The band's core members, musicians Olivier Libaux and Marc Collin, featuring various, mostly female, vocalists. The group have also recorded with some of the original writers of the songs covered, such as Martin L Gore of Depeche Mode ('Master and Servant') and Ian McCulloch of Echo and the Bunnymen ('All My Colours'). Their name comes from the French cinema movement of the 1960s of the same name, whereas 'bossa nova' is Portugese for 'new trend' or 'new wave'. Their latest album includes a cover of Altered Images' 'I Could Be Happy' as well as some original material.  (Read more at Wikipedia)
Links to Peel
Nouvelle Vague's initial single and album releases in 2004 seemed tailor-made to be played by Peel as they feature cover versions of such Peel favourites as 'Teenage Kicks' and 'Love Will Tear Us Apart', both of which were played on his show in 2004. Other early covers included Guns Of Brixton (Clash) , A Forest (Cure), Making Plans For Nigel (XTC) etc. In subsequent years Nouvelle Vague have covered tracks by other session of Peel-related bands such as Cocteau Twins, Simple Minds, Killing Joke, Gary Numan, Sex Pistols, Buzzcocks and New Order. Sadly, our DJ did not live to be able to listen to further works or even invite them for a session which would surely have been a wonderful experience. Nouvelle Vague's 'Teenage Kicks' was the closing track of the BBC World Service Tribute Programme in October 2004.
Shows played
External links
Community content is available under
CC-BY-SA
unless otherwise noted.