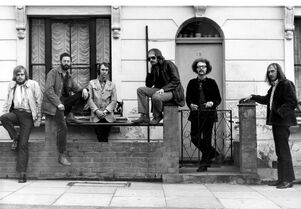 Nucleus were a pioneering jazz-rock band from Britain who continued in different forms from 1969 to 1989. In 1970 they won first prize at the Montreux Jazz Festival, released the album Elastic Rock, and performed both at the Newport Jazz Festival and the Village Gate jazz club. They were led by Ian Carr, who had been in the Rendell–Carr Quintet during the mid and late 1960s, and was a respected figure in British jazz for more than forty years. Their jazz-based music evolved from an early sound incorporating elements of progressive and psychedelic rock toward combination with a funkier sound in the mid and late 1970s.
Links to Peel
Peel in an interview with Wire magazine, published in January 1995, described Ian Carr as a serious and frightening man:
"Ian Carr was an incredibly serious man and he used to come in and lecture Walters and myself on the inadequacies of almost every other musician apart from himself. And we were so frightened of him that when he said "How about a session for Nucleus?", we didn't like to say no."
Like Peel's producer John Walters, Ian Carr began his career in music while living in Newcastle and working as a teacher; his first group (1960-1962) was called the EmCee Five (not to be confused with the MC5). As well as being a performing musician, Carr managed to forge a second career as a broadcaster, academic and writer, whose books included a biography of Miles Davis. On radio, he made frequent appearances on the BBC's jazz programmes, reviewing new records and presenting shows, including the Jazz In Britain series on Radio 3 in the early 1970s, where he worked with Peel's former Night Ride producer John Muir, 
Nucleus (sometimes known as "Ian Carr's Nucleus") did four sessions for Peel's show and some members of the group later joined Soft Machine, whose singer Robert Wyatt was a close friend of Peel (drummer John Marshall was the long-term replacement for Wyatt when he left the Softs). As the Wikipedia article on them shows, many musicians from the British jazz scene (names more familiar to Walters than to Peel) passed through the band. Guitarist Chris Spedding also did Peel sessions under his own name and with other artists. Nucleus continued to release albums regularly throughout the 1970s, but did no more sessions for Peel after 1972.
Sessions
1. Recorded: 1970-03-02. Broadcast: 07 March 1970. Repeated: 27 June 1970
Elastic Rock / 1916 / Orpheus / Persephone's Jive / Twisted Track
2. Recorded: 1971-03-15. Broadcast: 27 March 1971. Repeated: 05 June 1971
Snakeskin Dream / Bearded Lady / Morning Call
3. Recorded: 1971-11-02. Broadcast: 17 November 1971. Repeated: 04 January 1972
Feel It First / Belladonna / Tall Grass / Pieces Of Me
4. Recorded: 1972-10-10. Broadcast: 07 November 1972
Belladonna / Suspension / Mayday / Summer Rain
Other Shows Played
1973
External Links
Community content is available under
CC-BY-SA
unless otherwise noted.