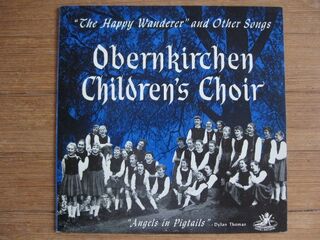 The Obernkirchen Children's Choir
(In
Germany
, it is called Schaumburger Märchensänger, translated as Schaumburger's Fairy Tale Singers) is a German children and youth choir founded by Edith Moller and Erna Pielsticker in 1949 for war orphans. The choir received an invitation to participate in the "International Eisteddfod", a choir competition in Llangollen, Wales, where they won first prize. In 1953 a BBC radio broadcast of the choir's winning performance of the song Der fröhliche Wanderer (The Happy Wanderer) at the Llangollen International Musical Eisteddfod turned the song into an instant hit. On January 22, 1954, the song entered the UK singles chart and stayed on the chart, only a Top 12 at the time, for 26 non-consecutive weeks. The track reached number 2 in the UK Singles Chart in 1954. The group performed on many international tours under the name Obernkirchen Children's Choir and recorded several albums. They made two appearances on The Ed Sullivan Show (November 29, 1964, and December 11, 1966). The choir still exists today with new generation of singers continuing the work of its pioneers.
Links To Peel
In Peeling Back The Years, JP mentioned to John Walters that the first gig he ever went to was with his mother at Liverpool Stadium in 1954 to see the Obernkirchen Children's Choir:
"You see, the very first gig I went to, my mother took me to see Obernkirchen Children's Choir. The Happy Wanderer. "Der fröhliche Wanderer", as they say in Germany, with a great show of reluctance. And I went to see him at the Stadium – them rather, at the Stadium in Liverpool."
However, this rather dismissive mention of the group was expanded on at length in Margrave Of The Marshes. He had been excited at the prospect of the record being the first to spend a year in the top 20, although it dropped out in the 52nd week. Moreover, the concert was significant to Peel in two ways: culturally, because he considered it a daring move to bring children from Germany to perform in England less than 10 years after the war had ended; and sexually due to his fascination with one of the girl choristers:
"I loved the way she moved and became obsessed with her in the way that you can when you are fourteen and pretty stupid." [1]
He later played The Happy Wanderer as part of the Pig's Big 78.
Shows Played
2000
Other
External Links
Footnotes
↑ Margrave Of The Marshes, Corgi edition, p.136.
Community content is available under
CC-BY-SA
unless otherwise noted.