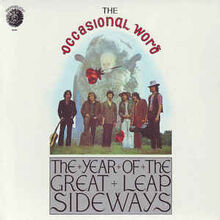 "The Occasional Word Ensemble was a bunch of poets cast along the lines of the Scaffold. I was once quoted in some journal or other as saying that 'one of them was institutionalized, but it could have been all of them', which, twenty-five years later, still seems a reasonable assessment. Their Dandy album was an odd mix of poems, songs, sketches and rather awful jokes."
(Clive Selwood, All Of The Moves (But None Of The Licks), p114)
"A group of superior poets, minstrels, layabouts, singers, sportsmen and guitarists. Feature death-harp of Pete Roche. Hire them soon."
(John Peel, ABC Of Beauty, Disc & Music Echo, 2 Nov 1968.[1])
Links To Peel
Also known sometimes as Occasional Word or Occasional Music Ensemble, OWE released their only LP on Peel's Dandelion label, 'The Year Of The Great Leap Sideways' (1969), to the apparent bemusement of his friend and business partner Clive Selwood (see above), with production credited to Peel himself.[2]
The grouping also performed a live session on Night Ride in 1968, with a lineup of Mitch Howard, Rick Silvester, Ric Sanders and John Brown, which didn't include Peel friend and sometimes OWE member Pete Roche. The DJ also appeared regularly with OWE at gigs the following year (see Gigography 1969).
After the band split up, Howard and Roche contributed record reviews to Cream magazine, while Sanders too worked as a journalist and recorded two Peel sessions in 1977 and 1978 with the Albion Country Band. Later, he joined Fairport Convention.
Festive Fifty Entries
Sessions
One session only. No known commercial release.
1. Recorded 1968-07-24. Live in studio 24 July 1968.
(Tracks as listed by Ken Garner in 'The Peel Sessions', but additional poems also performed by individual members in studio )
Brownsville Blues / George King / I'm So Glad / Mrs Jones / Georgia Skin Game
Other Shows Played
31 January 1970: The Girl Behind Me (LP – The Great Leap Sideways) Dandelion
28 February 1970: The Evil Venus Tree (LP – The Great Leap Sideways) Dandelion
21 March 1970: Mr Jones (LP – The Great Leap Sideways) Dandelion
See Also
External Links
Community content is available under
CC-BY-SA
unless otherwise noted.