Oklahoma City is the capital and largest city of the U.S. state of Oklahoma. The county seat of Oklahoma County, the city ranks 27th among United States cities in population. The population grew following the 2010 Census, with the population estimated to have increased to 631,346 as of July 2015. As of 2015, the Oklahoma City metropolitan area had a population of 1,358,452, and the Oklahoma City-Shawnee Combined Statistical Area had a population of 1,459,758 (Chamber of Commerce) residents, making it Oklahoma's largest metropolitan area.
Links To Peel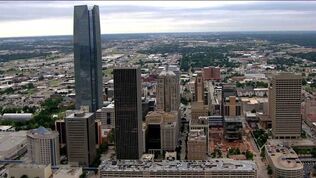 Peel moved to Moore, south of Oklahoma City where he had a new job lined up as a DJ at radio station KOMA, with his wife Shirley Anne Milburn in 1965 . During his 18 months there, he underwent his first name change, dropping the 's' from his surname and broadcasting as John Ravencroft. At KOMA, he was paired with a comedy jock named Paul Miller on The Paul and John Show, during which the duo, deprived of any control over the playlist, would ridicule the various advertisements. The show became so popular that whenever John and Paul went to high school American Football games the half time show would be dedicated to them. Peel recalled his experience working on the show on his 18 April 2002 programme:
"I was on radio station KOMA Oklahoma City in '65-'66, and it was located in Moore, Oklahoma, just outside Oklahoma City, which is where I lived. It was subsequently flattened by a tornado, I think, or a lot of it was. And I used to do a thing called the Paul & John Show, which was the breakfast programme, with an excellent man called Paul Miller, who I would love to hear from or track down in some way, but American DJs at that time, it may still be the case, used to change names as they drifted from station to station. When I was on This Is Your Life all those years ago, they tried to find Paul Miller, but couldn't because presumably he had changed his name, which is a great pity, because he was an excellent man. And we were once the focus of a halftime show in a homecoming game between two local American (obviously American) high school football teams, which was a great honour and terrifically exciting, let me tell you."
Around this time, Peel branched out into management, taking under his wing two groups - Dann Yankee & The Carpetbaggers and Jay Walker & The Pedestrians, whom he would ferry to and from gigs. Whilst in Oklahoma, Peel was later slotted to his own show in the evening slot, but due to the station's ratings not doing well, he was dropped from the station before deciding to move to San Bernardino in 1966.
External Links