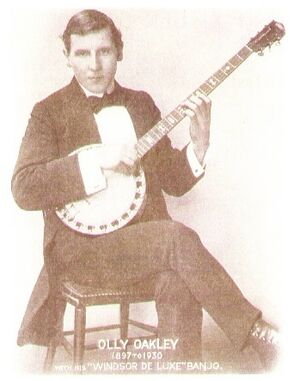 Olly Oakley
(b. Joseph Sharpe in 1886 or 1887, d.1943) was a British banjoist whose performing and recording career began in the 1890s, the era of minstrel shows and wax cylinder recordings, and ended in 1930, when rheumatoid arthritis in his hands made him unable to continue working. He was the most prolifically recorded banjoist of his time, was said to be a dynamic and versatile stage performer and was considered a virtuoso of the finger-style method of playing the instrument. His repertoire ranged from arrangements of classical pieces to the ragtime compositions which became popular in the 1910s and 1920s. A fascinating biographical article on Olly Oakley can be found
here
Links to Peel
John Peel had a liking for recordings from the early years of the twentieth century, as is seen in his playlists for the 1981 and 1982 Peel's Pleasures series as well as the tracks from that era included in the Peelenium and Pig's Big 78 features of his later shows. In fact, The Pig's Big 78s: A Beginner's Guide compilation on Trikont Records starts with Olly Oakley's version of "The Jovial Huntsman" (including the traditional "John Peel"), which Peel had first played from an original 78 on the Top Gear of 25 February 1972. The CD ends with another track on which Oakley appears, this time as an accompanist; "Massa's In De Cold, Cold Ground" by Miss Agnes Preston, a song very much of the minstrel show era.
Olly Oakley's music would seem to belong to a very remote era, with little relevance to the popular music styles which came later. Yet there was one Peel session artist who acknowledged Oakley's influence; the banjoist Clive Palmer, who recorded a Top Gear session in 1969 with the Famous Jug Band. Like Olly Oakley, Palmer played finger-style banjo rather than the more "modern" plectrum style. He came to attention as a founder member of the Incredible String Band but left after the recording of the ISB's first LP. Two of Palmer's tracks on that album derive from Olly Oakley's repertoire: "Schaeffer's Jig" and the banjo solo whose title betrays its minstrel show origins, "Niggertown".
Festive Fifty Entries
Sessions
Other Shows Played
1972
1981
1996
26 January 1996: Whistling Rufus (compilation - I'll Dance Till De Sun Breaks Through) Saydisc (John wonders whether or not the Olly Oakley track, recorded in 1903, is the oldest ever played on Radio 1)
03 February 1996 (BFBS): Whistling Rufus (compilation - I'll Dance Till De Sun Breaks Through) Saydisc
External Links
Community content is available under
CC-BY-SA
unless otherwise noted.