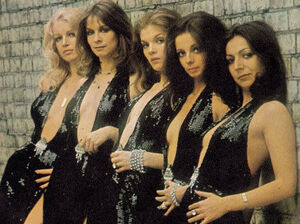 Pan's People was a British all-female dance troupe most commonly associated with the BBC TV music chart show Top of the Pops, from the late-1960s to the mid-1970s. They appeared on many other TV shows in the UK and elsewhere in Europe, as well, and performed in nightclub cabaret. They were the second dance troupe to appear regularly on Top of the Pops, succeeding the Go-Jos in May/June 1968. Starting with monthly appearances, they became a weekly feature of the programme following its revamp and time extension in January 1970, continuing in the show until April 1976. As a result of line-up changes just one dancer, Ruth Pearson, appeared on the whole run.
Links to Peel
Peel narrated a segment of the group on The A-Z Of TV programme, broadcast in 1990 using archive footages of their appearances on Top Of The Pops and their recruitment video. He also presented in 1992, TV Hell: Rock Bottom, where he briefed about the Pan's People, giving his impression of the group, as being delighted in their absurdly literal interpretation of song lyrics.
A couple of years later, he took part in discussing the group in the documentary, Digging the Dancing Queens and in an interview on the TOTP2 website, he described them as one of the worst performances he'd seen on Top Of The Pops[1].
When the group released singles in the 70's, Peel working for Sounds reviewed their single, He's Got Magic, on the Singles Reviews in 1975, where he gave their record, 2 stars, meaning in his words, ho-hum. He also in the review, criticised their last single, describing it as so horrible, that he looked forward to plunging his fangs into the new one.
Shows Played
External Links
Community content is available under
CC-BY-SA
unless otherwise noted.