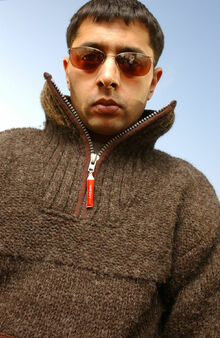 Rajinder Singh Rai (Punjabi: ਰਜਿੰਦਰ ਸਿੰਘ; born 14 February 1973), better known by his stage name Panjabi MC, is a British musician of Indian Punjabi descent. He is best known for the worldwide bhangra hit, "Mundian To Bach Ke" of 2002, although it originated from an album from 1998. Allmusic has called him "one of the most prominent names in bhangra".
Links To Peel
In an interview with the Punjabi2000 website, Panjabi MC claimed that one of his songs Mapia Tu Dhar (released in 1994) was played by Peel before his 2003 hit Mundian To Bache Ke hit the charts:
"It did. Yes, John Peel played that track. That really inspired me even more to get Bhangra in the mainstream. John Peel used to play all the good alternative music so I was cuffed that he was playing my music on his show. Other people were playing my stuff too which was great. There is a station called Radio Luxembourg and they had a presenter who was more John Peel than John Peel! He picked up on my stuff from about '92,'93. I think it was one of the first European radio stations so it has always had that nostalgic audience and they pick up on some good stuff. It was good to have people like that following me." [1]
However, according to available playlists, there is no evidence Peel played the track, although Andy Kershaw may have done so in the early 90's. Nonetheless, Peel did play a track from the artist in 2002 given by his Radio One colleague Bobby Friction and also a mashup featuring Panjabi MC, 50 Cent and Sean Paul called Good Morning - In Da Club.
Shows Played
2003
08 July 2003: 'Good Morning - In Da club - (12")' (Remix Inc)
External Links