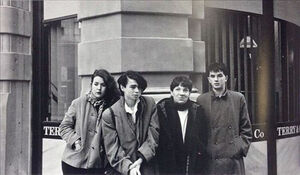 The Passage were a post-punk band from Manchester, England, who appeared on several record labels including Object Music, Cherry Red Records, and their own label Night & Day, a subsidiary label to Virgin Records.
The band was formed as a quartet by songwriter and former Hallé Orchestra percussionist Richard Witts in 1978, but later became a trio. Witts produced the band's recordings and sang on most of their releases, the occasional lead vocal being taken by Tony Friel (ex-Fall member) or Andy Wilson. Although they never truly broke into the mainstream, their most successful song was 'XOYO'. The song was an experiment to see whether John Cage's method of aleatoric composition could be successfully applied to popular music composition. XOYO also appeared on the Cherry Red compilation album Pillows & Prayers. The band broke up in 1983.
Richard Witts is now a lecturer and has taught at the University of Edinburgh, Goldsmiths University in London and currently teaches at Edge Hill University in Lancashire. Andy Wilson is a club and radio DJ based mainly in Ibiza. Joe Mckechnie is a producer, remixer, and DJ based in Liverpool.
Links to Peel
Peel discovered The Passage in the late 70's. He was impressed with their 1980 debut album 'Pindrop', calling it one of the most impressive LP's of the year on his 08 September 1980 programme. Further material of the band were played on the show, including four sessions and an entry in the 1982 Festive Fifty, but by the time they released their fourth album in 1983, Peel seemed to have lost interest in them and the band split.
Festive Fifty Entries
Sessions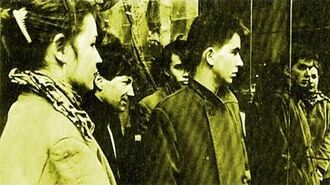 1. Recorded: 1980-11-18. Broadcast: 27 November 1980. Repeated: 17 December 1980
Dark Times / Shave Your Head / Devils And Angels / The Shadows
2. Recorded: 1981-09-30. Broadcast: 14 October 1981. Repeated: 28 October 1981
Rod Of Iron / Form And Void / Man Of War / Love Is As
3. Recorded: 1982-05-24. Broadcast: 07 June 1982. Repeated: 21 July 1982, 29 December 1982
A Day / Empty Words / Horse Play
4. Recorded: 1982-10-11. Broadcast: 27 October 1982. Repeated: 23 November 1982
Watching You Dance / Dark Times / Man Of War / Love Is As / Horseplay / Empty Words
Other Shows Played
1979
1980
1981
1982
1983
1985
External Links
Community content is available under
CC-BY-SA
unless otherwise noted.