(This page is about the American doo-wop group. For the Scottish band of the same name, see Pastels).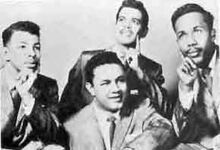 The Pastels were an American doo-wop group formed in 1954 at a US Air Force base in Narsarssuak, Greenland. The ensemble consisted of DiFosco (Dee) Ervin (lead), Richard Travis (first tenor), Tony Thomas (second tenor) and Jimmy Willingham (baritone; brother of Gus Willingham, one of the original members of the Cadillacs). The group finally split up in 1959.
Links to Peel
Peel played a track from the group called Been So Long in 1988. It is not known whether he played it from the single or a compilation album.
Shows Played
1988
External Links