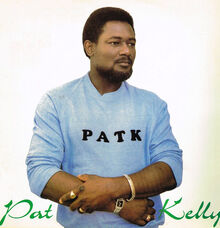 Pat Kelly (1949 – 16 July 2019) was a Jamaican reggae singer, whose career began in the late 1960s. Kelly was born in Kingston in 1949. After leaving school, he spent a year studying electronics in Springfield, Massachusetts, United States during 1966, before returning to Jamaica. In 1967, when Slim Smith left The Techniques, Kelly was brought in to replace him, recording for Duke Reid in the rocksteady era when Reid's Treasure Isle studio/label was dominating Jamaican music. Kelly's falsetto voice, strongly influenced by the American soul singer Sam Cooke, in combination with Winston Riley and Bruce Ruffin, maintained the success that The Techniques had enjoyed with Smith. The Techniques first record with Kelly, "You Don't Care", adapted from Curtis Mayfield's "You'll Want Me Back", spent six weeks at number one in the Jamaican singles chart, and was followed by further hits with "Queen Majesty", "My Girl", "Love Is Not a Gamble", "It's You I Love", and "Run Come Celebrate". In 1968, Kelly went solo, moving from Reid to Bunny Lee, and debuting with another Mayfield cover, "Little Boy Blue". In the late 70's, he moved to production and on 16 July 2019 he died from complications of kidney disease.
Links to Peel
Peel played tracks from Pat Kelly on his shows and would often play his cover versions of Roy Orbison's It's Over and Procol Harum's Whiter Shade Of Pale.
Shows Played
18 October 1979: 'A Whiter Shade Of Pale' (Mash-It) (JP: 'I suppose as long as you can get the organ bit right, that's always going to sound good, really, 'cos it's such a good tune.')
1982
1986
1990
1991
1997
2003
External Links
Community content is available under
CC-BY-SA
unless otherwise noted.