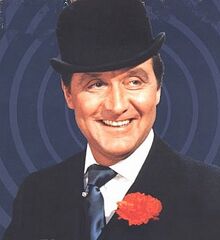 Daniel Patrick Macnee (6 February 1922 – 25 June 2015), known professionally as Patrick Macnee, was a British and American actor. He was best known for his role as the secret agent John Steed in the television series The Avengers. In 1964, Patrick Macnee recorded with Honor Blackman the track 'Kinky Boots', which was initially released in 1964 and re-released in 1983, but it was only in 1990, it became a UK Top Ten hit single when it peaked at number 5, due to the song being promoted by BBC Radio One DJ Simon Mayo.
Links To Peel
Peel played the track 'Kinky Boots', when it was re-released in 1983 by the Red Cherry label on his 14 June 1983 show. On the same show, Peel and David Jensen talked about the track after it got played and both mentioned enjoying the song. In 1990, when the track was re-released again, it barely got a mention or airplay by Peel.
Shows Played
1983
External Links
Community content is available under
CC-BY-SA
unless otherwise noted.