Paul Burnett (born 26 November 1943, Hulme, Manchester) is an English radio disc jockey, who began his radio career while in the Royal Air Force in the Persian Gulf in 1964. In 1966 he joined offshore radio station, Radio 270, broadcasting off Scarborough, North Yorkshire. After the banning of the offshore stations he moved in 1967 to Manx Radio on the Isle of Man, but he soon joined Radio Luxembourg, where he hosted the chart show and discovered many recordings, which had been thought lost, of William Joyce's propaganda broadcasts to Britain, made from the Luxembourg stations during the Nazi occupation. On Luxembourg, he presented the Saturday Top 20 show from 1967 to 1974. In 1974, he joined BBC Radio One and left in 1982 to work for different radio stations.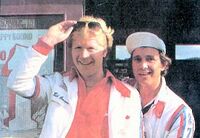 Relationship with John Peel
The most famous incident involving Peel and Burnett concerned the planned beating up of their nemesis Simon Bates.
Peel: [At one Radio 1 Christmas Party] Kid Jensen, Paul Burnett and myself... not a carefully honed fighting team, but nevertheless filled with drink... we went down and waited in the underground carpark at the BBC for the opportunity to beat up Simon Bates. Fortunately he didn't turn up, or we might have suffered an embarrassing reverse, as he's probably stronger than us.[1][2]
Top Of The Pops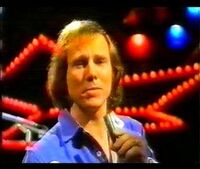 Paul Burnett appeared as a co-host with Peel in occasional, multi-DJ episodes of
Top of the Pops
during the 1980s.
[3]
[4]
Links
References
Community content is available under
CC-BY-SA
unless otherwise noted.