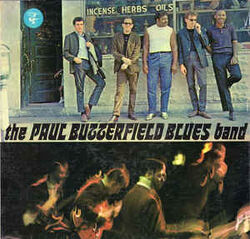 Paul Vaughn Butterfield (December 17, 1942 – May 4, 1987) was an American blues harmonica player and singer. After early training as a classical flautist, he developed an interest in blues harmonica.... He soon began performing with fellow blues enthusiasts Nick Gravenites and Elvin Bishop.
In 1963, he formed the Paul Butterfield Blues Band, which recorded several successful albums and was popular on the late-1960s concert and festival circuit, with performances at the Fillmore West, in San Francisco; the Fillmore East, in New York City; the Monterey Pop Festival; and Woodstock. The band was known for combining electric Chicago blues with a rock urgency and for their pioneering jazz fusion performances and recordings. After the breakup of the group in 1971, Butterfield continued to tour and record with the band Paul Butterfield's Better Days, with his mentor Muddy Waters, and with members of the roots-rock group the Band. While still recording and performing, Butterfield died in 1987 at age 44 of a heroin overdose...
In 2006, he was inducted into the Blues Hall of Fame. Butterfield and the early members of the Paul Butterfield Blues Band were inducted into the Rock and Roll Hall of Fame in 2015. Both panels noted his harmonica skills and his contributions to bringing blues music to a younger and broader audience.
(Read more at Wikipedia)
Links to Peel
Peel first became aware of the Paul Butterfield Blues Band (later known as the Butterfield Blues Band) while he was living in California. They created a stir by backing Bob Dylan during his famous "electric" performance at the 1965 Newport Folk Festival, and their first two albums were issued by Elektra in 1965 and 1966. JP recalled listening to them "back home in Berdoo", in an article written for Oz magazine in 1972[1]. Much later he confessed that he might have seen them live but he couldn't quite remember (see comment below). Butterfield's band were certainly gigging in California at that time, as Peel pointed out in his Oz article ("Butterfield was playing on the coast"), their style being very much to the taste of the hippy audiences of San Francisco, so it's quite possible that the DJ could have seen them at a venue such as the Whiskey A Go Go, Los Angeles.
As for their records, Peel played tracks from most of their albums, but he remained fondest of their first, eponymous LP, especially the band's versions of "Shake Your Moneymaker" and "Look Over Yonders Wall". The latter track appeared on the final Perfumed Garden of 14 August 1967 in the programme's "essential nocturnal rave" slot, and at various other moments in Peel's career, the final play of it being on 18 February 2003. Yet the Butterfield band soon abandoned the hard, guitar-based Chicago style popular with British blues groups of the late 1960s and were criticised for it, by John Mayall among others. In International Times in early 1968, Peel wrote: "I don't agree by any means that the Butterfield band is by any means the best white blues band in the world..." and described their third LP, The Resurrection of Pigboy Crabshaw, as "a bit ordinary"[2]..
For a time in the late 1960s, the Paul Butterfield Blues Band were regarded as a US equivalent of John Mayall's Bluesbreakers. Butterfield's first known appearance in a Peel playlist was as a guest on an EP by Mayall's Bluesbreakers, recorded in late 1966 when the Butterfield band visited London, and their lead guitarist Mike Bloomfield[3] was seen as a rival to Eric Clapton. Like Clapton, he left the group where he made his name, formed a band of his own (the Electric Flag) and then pursued a solo career, sadly with less success than Clapton. Fellow guitarist Elvin Bishop was luckier, scoring chart hits in the 1970s with his own band. Peel played tracks by both ex-Butterfield Blues Band guitarists but seems to have ignored Paul Butterfield's own work with the band Better Days, after the Blues Band had split up in 1971. However, the DJ returned to their music later in his life - especially the tracks he had first heard in San Bernardino.
Festive Fifty Entries
Sessions
Other Shows Played
18 July 1967 (John Mayall's Bluesbreakers featuring Paul Butterfield): Riding on the L& N (EP - John Mayall's Bluesbreakers with Paul Butterfield EP) Decca
14 August 1967: (JP: "Here's our essential nocturnal rave for this evening from the Butterfield Blues Band.")
- Look Over Yonders Wall
(JP: "And that featuring of course Mike Bloomfield on lead guitar who has now got his own group called the Mike Bloomfield Flag, which should be very interesting.")
24 January 1970: No Amount Of Loving (2xLP - Live) Elektra (credited to Butterfield Blues Band)
31 March 1972: Shake Your Money Maker (LP - Golden Butter, The Best Of The Paul Butterfield Blues Band) Elektra
27 February 1973: unknown
27 March 1973: Look Over Yonders Wall (LP – Golden Butter, The Best Of The Paul Butterfield Blues Band) Elektra
10 July 1982: Look Over Yonders Wall (LP: Paul Butterfield Blues Band) Elektra
10 April 1985: Shake Your Moneymaker (LP-The Paul Butterfield Blues Band)' (Edsel) (JP: 'I used to think that was impressively lewd at the time, you know....I tell people that I saw them playing live in California around that time, perhaps a year or so later, and to be quite honest with you, I'm not quite sure if I'm telling the truth or not, it seems so long ago. Senile dementia, which happens to us all eventually.')
06 September 2001: Shake Your Money-Maker (LP - The Paul Butterfield Blues Band) Elektra
18 February 2003: Look Over Yonders Wall (LP- The Paul Butterfield Blues Band) Elektra
See Also
External Links