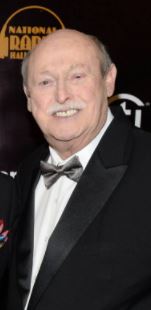 Paul Miller (born Paul Menard) (Date of Birth: 21 February 1937) was an American comedy jock, who first presented a show in the 60's at KOMA in Oklahoma City under the name of Paul Miller and then moved to KFMB in 1965 with Jack Woods, both joining KCBQ at San Diego, California under the pseudonym of Charlie & Harrigan until 2001. The duo were inducted into the Radio Broadcast Hall of Fame in 2014 and a year later, the partnership ended when Jack Woods died.
Links To Peel
Peel worked with Paul Miller at KOMA as a duo under the Paul and John Show. The Paul and John Show, which, according to Margrave of the Marshes (p.213), became extremely popular with teenage high school students. Although no recordings of the show have come to light, it seems to have included an element of comedy, in the style popularised by other DJ duos in the US and copied in the UK by Kenny Everett and Dave Cash; their Kenny and Cash Show on the pirate ship Radio London was similarly successful in 1965-66. Peel recalled his experience working on the show on his 18 April 2002 programme:
"I was on radio station KOMA Oklahoma City in '65-'66, and it was located in Moore, Oklahoma, just outside Oklahoma City, which is where I lived. It was subsequently flattened by a tornado, I think, or a lot of it was. And I used to do a thing called the Paul & John Show, which was the breakfast programme, with an excellent man called Paul Miller, who I would love to hear from or track down in some way, but American DJs at that time, it may still be the case, used to change names as they drifted from station to station. When I was on This Is Your Life all those years ago, they tried to find Paul Miller, but couldn't because presumably he had changed his name, which is a great pity, because he was an excellent man. And we were once the focus of a halftime show in a homecoming game between two local American (obviously American) high school football teams, which was a great honour and terrifically exciting, let me tell you."
Indeed Paul Miller did change his name to Irv Harrigan when he moved to KFMB and KCBQ to work with Jack Wood under the name of Charlie & Harrigan, after previous
'Irv Harrigan's'
left the show.
In an interview with Radio Journals in 2005, Miller paid tribute to Peel and mentioned John Ravencroft (Peel's name at KOMA) "didn't know how to do it … I taught him … he sat right next to me, watched everything I did," but added that he learned fast and was a natural with a great radio voice. [1]
External Links