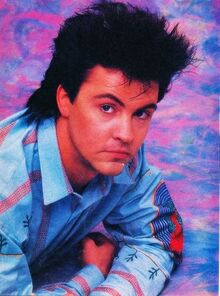 Paul Young (b.1956) is a British singer, musician and songwriter. Formerly vocalist with Streetband and the Q-Tips, Young went on to have a successful solo career in pop music with his distinctive "soul" voice starting with his 1983 no.1 single 'Wherever I Lay My Hat' (That's My Home), a song first recorded by Marvin Gaye in 1962. A string of hit singles followed as well as two no.1 albums No Parlez (1983) and The Secret of Association (1985). Young enjoyed ten years of success with CBS records before being dropped in 1993, therefore branding him as a prevalently "eighties" artist even though he has continued to perform and record. He also sang the opening lines of the Band Aid single 'Do they Know It's Christmas', allegedly as a replacement for David Bowie who was unable to attend the recording session.
Although the Q-Tips effectively disbanded with the departure of Young in 1982, records were released afterwards often as "Q-Tips featuring Paul Young" to cash in on the singer's solo success. (read more on Wikipedia)
Links to Peel
Although Peel never played any of Young's solo material on his show he did feature the Q- Tips single 'S.Y.S.L.J.F.M. (The Letter Song)' and other tracks from their eponymous debut album in 1980 with Young as lead vocalist. Peel was presenter on Top of the Pops when 'Wherever I Lay My Hat' was at no.1 for its third and final week. Young also took part in the Live Aid concert, an audio recording of which was repeated on Peel and Janice Long's New Year's Eve special in 1985.
Young's debut album features a cover version of the Joy Division song and Peel favourite 'Love Will Tear Us Apart'.[1] It's unknown as to whether Peel ever heard this recording.
Shows played
Top Of The Pops
External links