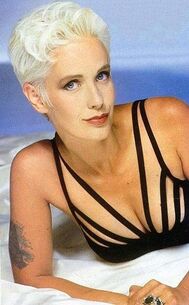 Paula Elizabeth Yates (24 April 1959 – 17 September 2000) was an English television presenter and writer, best known for her work on two television programmes, The Tube and The Big Breakfast. She was in a relationship with musician Bob Geldof (singer of the Boomtown Rats) from 1976 to 1996. She died of a heroin overdose in 2000. Born in Colwyn Bay, Wales to English parents, Yates was brought up in a show business family. Her mother was Elaine Smith, a former showgirl actress and writer of erotic novels from Blackpool, who used the stage name Heller Toren. Until late in her life, Yates believed her biological father to be Tyldesley, Lancashire born Jess Yates, who hosted the ITV religious programme Stars on Sunday. Jess Yates and Elaine Smith were married from 1958 to 1975. Jess Yates was nineteen years older than his wife, and their marriage was unconventional.
Links To Peel
Peel mentioned on his 19 September 2000 show that he once did a TV programme with her called Paula On Sex:
"In fact, I did a TV programme with her which was called 'Paula On Sex', which I'm extremely pleased was never actually shown, because it would have caused a lot of trouble, I think. Each person who was invited onto the programme discussed one particular aspect of sex. This is quite true, but you won't be too surprised to hear that I was Masturbation."
External Links
Community content is available under
CC-BY-SA
unless otherwise noted.