(This page is about the British punk band. For the electronic act of the same name, see Penetration(2)).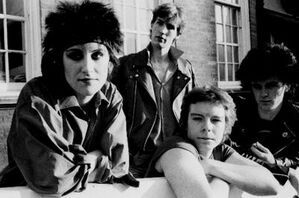 Penetration is a punk rock band from County Durham, England formed in 1976, named after a Stooges song. They re-formed in 2001 with several new members. The band's lineup was lead singer Pauline Murray, Robert Blamire (bass), Gary Smallman (drums) and Gary Chaplin (guitar). Chaplin left in March 1978 being replaced with Neale Floyd, with second guitarist Fred Purser joining in July. The band dissolved in late 1979. They reformed in 2001 with original members Murray, Blamire and Smallman, and Steve Wallace and Paul Harvey drafted in as new guitarists.
Links to Peel
The band was played quite frequently on Peel's shows during the late 70's and early 80's. Pauline Murray in an interview in the writewyattuk blog, acknowledged Peel's help to the band:
"Yes, he was probably the only DJ that would play any of the punk stuff, but it was such a force to reckon with that I don't think he could have resisted it. It was going to break down at least one door, with the force of it. Somebody had to do it. John was a hippie before that. It wasn't his natural type of music, but he could see it was a force to be reckoned with and somebody had to let it through the door. He was in the right place to let it all through, and the only place it could have got through was the BBC.
I think people like my brother's mates only got to know about Penetration through Peelie playing you in the first place. And his show was such a great way to let people in on the whole scene. There were so many people listening for new stuff. It was thrilling to get a Peel session, and I think John Peel was the first to play 'Don't Dictate'. That was thrilling when you think about it. We were on the radio!
We did a couple of Peel sessions, and those sessions were great. When you think of all those fledgling bands given an opportunity to go into a studio and record their songs. It was a great thing to hear new music as it's done by young people. And it was essential really to get it through." [1]
Peel was impressed by Penetration's first album, which was included in his 1978 Top Twenty Albums, but wasn't so much on their second, which he mentioned on his 24 September 1979 show.
Sessions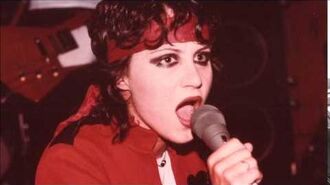 1 . Recorded: 1978-07-05. Broadcast: 10 July 1978. Repeated: 02 August 1978, 28 December 1978, 11 March 1981
Future Daze / Vision / Stone Heroes / Movement
2. Recorded: 1979-02-28. Broadcast: 07 March 1979. Repeated: 23 April 1979, 26 December 1979
Danger Signs / Last Saving Grace / Coming Up For Air
Other Shows Played
1977
1979
1980
1981
1982
1984
1991
28 June 1991 (BFBS): Danger Signs (Unreleased Studio Version) (LP - Race Against Time) Clifdayn
1995
22 July 1995: Movement (Album: Moving Targets) Virgin
29 July 1995 (BFBS): 'Movement (LP-Moving Targets)' (Virgin) (JP: 'I remember somebody saying to me at the time, you know, which was 1978, that Penetration weren't really a punk band at all, but just a kind of folk rock band that happened to be in the right place at the right time, and listening to this again after all those years, there is an element of truth to that, really, I suppose.')
External Links