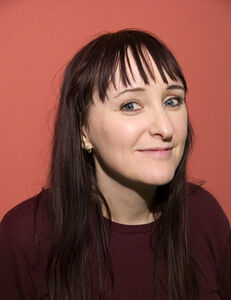 (This article is about the British ensemble. For the TV programme, see People Like Us.)

People Like Us is the pseudonym of Vicki Bennett, who has been active since 1991. Her music is constructed mainly from found samplings. She has produced more than ten solo albums as well as contributing to compilations. In 2006, she was the first person to be given unrestricted access to the BBC Archives, and has also had work shown at the Tate Modern, Whitechapel Gallery, the Barbican, Centro de Cultura Digital, Maxxi and Sonar.
At present she is working on a commission ("in.site") for The Lux in London, for an online a piece about the benefits of keeping archives not just in the past, but available to the present. In September 2003, Vicki performed a concert at the Pompidou Centre in Paris, and also took part in the symposium, Sample Culture at the Tate Modern.
Vicki also has a weekly radio show, "DO or DIY" on Wednesday evenings on WFMU in New York.
Links to Peel
People Like Us produced one session for Peel's show: Bennett later commented, "We were very lucky to do a session for the fantastic John Peel." [1]
Festive Fifty Entries
Sessions
1. Recorded: 2003-01-10. First broadcast: 28 January 2003. No repeats.
Other Shows Played
External Links