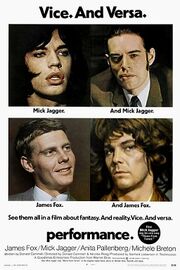 Performance is a 1970 British crime drama film directed by Donald Cammell and Nicolas Roeg, written by Cammell and photographed by Roeg. The film stars James Fox as a violent and ambitious London gangster who, after killing an old friend, goes into hiding at the home of a reclusive rock star (Mick Jagger of The Rolling Stones in his second film).
The film was produced in 1968 but not released until 1970 due to the reluctance of Warner Bros. to distribute the film owing to its sexual content and graphic violence. It received a mixed critical response initially, but since then its reputation has grown in stature; it is now regarded as one of the most influential and innovative films of the 1970s as well as in British cinema.
(Read more at Wikipedia).
Links To Peel
According to the Scene gossip column in Disc & Music Echo of September 12, 1970, Peel attended a preview screening of Perfomance, together with the Pig and his Radio 1 colleagues Pete Drummond, Mike Raven and Stuart Henry.[1] Peel himself mentions being there on the Top Gear of 05 September 1970, with his producer John Walters.
In the same issue of Disc, JP recommended "the soundtrack from "Performance", which you should, without doubt or dispute, experience several times" in his "Peel's Thoughts" column (although it's not clear whether he's referring to the album or the film).
However, on the Top Gear of 05 September 1970, he described it as "the ultimate horror film, in that everything is so real" and recommended it as "a film you should see - you won't enjoy it but you won't forget it". He also said it had the best soundtrack album he had ever heard. The LP featured artists Peel liked - Jagger, Ry Cooder, Randy Newman and the Last Poets - and on the same show he played four tracks from it, including the single "Memo From Turner".
Plays
Plays by Peel of the film soundtrack album.
(v/a LP - Performance: Original Motion Picture Sound Track) Warner Bros.
External Links
Community content is available under
CC-BY-SA
unless otherwise noted.