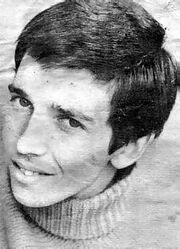 In the late 1960s Pete Drummond was the DJ regarded as closest in style and musical interests to John Peel. Like Peel, he was a former public schoolboy (educated at Millfield School, like Peel's "enemy" Tony Blackburn) who had gained his initial DJ experience in the United States, but in his case in Wichita and Topeka, Kansas, rather than on the West Coast. . He joined Radio London in September 1966 and was an established member of the Big L DJ team (rejoicing in the nickname "Dum Dum") by the time Peel arrived on the station in March 1967. He sometimes deputised on the midnight to 2 a.m. slot when Peel was on shore leave and seemed to share some of Peel's musical enthusiasms; he stepped in to present the penultimate Perfumed Garden when Peel was called ashore at short notice because his then wife Shirley Anne Milburn ("the White Rabbit") had been taken ill.
Drummond and Peel, by then both managed by Clive Selwood, co-presented the first Radio One Top Gear on 01 October 1967. In the station's first few weeks, Drummond, rather than Peel, seemed to be regarded as the main presenter of Top Gear, hosting the show for six consecutive weeks with co-presenters including Mike Ahern, Tommy Vance, Rick Dane and Peel. Indeed, Record Mirror, previewing the first week of Radio 1 in its September 23, 1967 issue, stated that Drummond (wrongly described as an American) had "been signed on as an anchor man for the longest (three-hour) D.J stint of the week.."[2]. However it was Peel who producer Bernie Andrews chose to co-host Top Gear from November 1967 to January 1968 with Tommy Vance, and then as sole presenter of the programme from February 1968.
Pete Drummond continued his Radio One career, introducing editions of Midday Spin, in which he included what were then known as "progressive sounds", and also deputising on occasion for Peel, for example on Night Ride when JP was ill in December 1968. He began hosting a one-hour weekend show with a playlist similar to Peel's in January 1969 and became one of the presenters of the Sounds of the Seventies weeknight programmes from 1970, as well as introducing some Radio One In Concert performances. He was one of the DJs who lost their regular slots when Radio One ended Sounds of the Seventies in 1975 as part of the BBC's economy drive.
Despite this, Pete Drummond still appeared on Radio One, being chosen in 1977 to narrate a Summer of '67 series, scripted by Pete Frame and John Tobler and focusing on the music and events of the year in which Peel made his name.[1] It is not known whether Peel was asked to present the series, but his distate for the sixties nostalgia of many of his contemporaries would probably have made him refuse. Nevertheless, the programmes featured much of the material played on the Perfumed Garden and early Top Gear. Drummond's Radio One career ended in 1991, although he also worked for other stations, BBC World Service and Radio Luxembourg among them.
Unlike Peel, Pete Drummond did not develop a second career in journalism or wholeheartedly espouse the values associated with the music he played. Before going into DJing, he had trained for three years at RADA as an actor and had the versatility such a background provides, but was less of an "original" than his Radio London and Radio One colleague. Perhaps because of this, his DJ career did not last as long as Peel's. He has most recently been active in commercial voice-over work.
References
Links