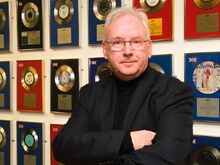 Peter Alan Waterman, OBE (born 15 January 1947) is an English record producer, songwriter, radio and club DJ, television presenter, president of Coventry Bears rugby league club and a keen railway enthusiast. As a member of the Stock Aitken Waterman songwriting team he wrote and produced many hit singles.
(Read more at Wikipedia.)
Links to Peel
In the early 1980s, former Coventry DJ and early Specials manager Pete Waterman was instrumental in the chart breakthroughs of Peel session bands The Piranhas and Musical Youth, before becoming part of the formidable pop production team of Stock, Aitken and Waterman, whose clients included Peel-played artists such as Bananarama, Dead Or Alive and Divine, as well as Kylie Minogue.
In 1984, Peel became the first DJ to play a SAW production on national radio, in the form of Agents Aren't Aeroplanes. On 21 May 2002, he admitted that listeners to his show might view this small piece of musical history in different ways:
"Whether that is a good thing or a bad thing, it's up to you to decide."
In a 2012 Guardian interview, Waterman recalled that Peel had reacted to a perceived snub for SAW at the 1989 Brit awards by taking him for a curry:
"His daughter was a Kylie fanatic, but John understood where we were coming from. He wasn't a snob."[1]
As Waterman acknowledged, the production trio's critics included those unhappy about pop releases on their PWL label dominating the indie charts.[1] At the same time, public admirers of his work included Peel-played artists such as KLF guiding force Bill Drummond.[2] [3]
In 2009, Waterman wrote the foreword to the autobiography of Specials and Fun Boy Three vocalist Neville Staple.[4]
The following year, Waterman wrote and produced the UK entry for the Eurovision Song Contest, "That's Sounds Good To Me" by Josh Dubovie.
See Also
External Links
References
↑ See Music for Misfits: The Story of Indie, Episode 2: The Alternative '80s, from 48.15.
Community content is available under
CC-BY-SA
unless otherwise noted.