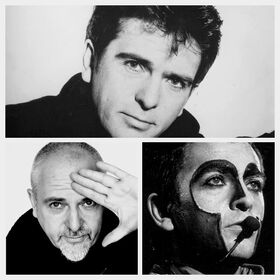 Peter Gabriel (b. 1950) is a British singer, songwriter, musician and producer. He first became famous as a member of Genesis before leaving the group in 1975 and embarking on a solo career, releasing his first album in 1976. He achieved mainstream success from 1980 onwards with chart hits such as 'Games Without Frontiers', 'Shock the Monkey' and most notably 'Sledgehammer', 'Don't Give Up' (with Kate Bush) and the album So in 1986. His interest in world music also began around 1980, founding the WOMAD (World of Music, Arts and Dance) project with the first festival in 1982. He also established the Real World studios and record label to promote world music artists. He has also been active in the Amnesty International movement and other humanitarian causes. In 2010, he joined a campaign to stop an agricultural development of the Wooley Valley, near Bath which had inspired his first solo single 'Solsbury Hill' in 1977. (Read more on Wikipedia).
Links to Peel
Aside from early sessions by Genesis, with Gabriel contributing vocals and flute, Peel showed little interest in Gabriel's work either with the group or as a solo artist. He did in fact only seem to promote Genesis records from A Trick of the Tail onwards, recorded when Gabriel had left. As a promoter of world music, however, Peel has featured various artists who have recorded for Real World (Ashkhabad, Tenores Di Bitti), or the WOMAD (Muzsikás, Amayenge, Nusrat Fateh Ali Khan) labels. During the 1987 Whistle Test special "87 Whistle Test 88" Peel interviewed Gabriel about world music, while featuring Zimbabwe's the Bhundu Boys who had previously recorded two sessions. Robert Wyatt recorded a cover version of Gabriel's song 'Biko', which recounts the assassination of South African anti-apartheid activist which made the 1984 Festive Fifty.
Like Peel, Gabriel also publicly declared his support for the Labour Party prior to the 1997 elections and was named as one of the biggest private financial donors to the party. Gabriel subsequently distanced himself from the Labour government following Tony Blair's support for George W. Bush and Britain's involvement in the Iraq War.
Despite his apparent lack of promotion of Gabriel's solo work, his first three albums (all entitled Peter Gabriel) as well as the German language Ein Deutsches Album are to be found in Peel's Record Collection.
Peel introduced Gabriel's Sledgehammer twice on Top of the Pops in 1986, including the TOTP debut of the iconic video for the song.
Shows played
Top Of The Pops
See Also
External links