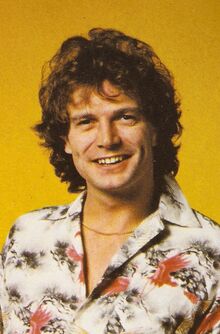 Peter James Barnard-Powell (born 24 March 1951 in Stourbridge, England) is an English former disc jockey, popular on BBC Radio 1 in the late 1970s and 1980s, who has a second career in talent management. Powell was educated at Uppingham School, a boys' Independent school in Rutland in England. Powell began his broadcasting career as the first voice on air when BBC Radio Birmingham launched in 1970, and then had a brief spell on Radio 1 in 1972. He then went to Radio Luxembourg before rejoining Radio 1 in 1977. Almost immediately after his arrival at the station he made his debut as a Top Of The Pops presenter, joining Radio 1 colleagues on the roster. Powell left Radio 1 in 1988 and most of his life has concentrated on building his management company (James Grant Media Group) with his business partner Russ Lindsay and other financial activities.
Links To Peel
In 1978 Peter Powell sent Peel in tears when he heard him play his copy of the Undertones Teenage Kicks on BBC Radio One, whilst stuck in traffic on the M6 motorway to a football match. In an interview with the Guardian in 2001, Peel described the emotion:
"The first time I cried was when, stuck in traffic on the M6 near Stoke-on-Trent on my way to the football, I heard Peter Powell play my copy of the EP on Radio 1. I had written "Peter. This is the one" on the inner sleeve. To my alarm, I found myself weeping uncontrollably and I still can't play Teenage Kicks without segueing another track in afterwards to give myself time to regain composure."[1]
In December 1982, Peel appeared on Powell's programme to give his five favourite records of the year [2]. However, relations with Powell went downhill from the 80s, as indicated by Peel in an interview with Teddy Jamieson of the Scottish Herald in the spring of 2004:
"Peter Powell was a dick, I'm afraid. It was Peter who came to me and told me that I shouldn't be playing hip-hop when I first started playing that because it was the music of black criminals."[3]
External Links
Community content is available under
CC-BY-SA
unless otherwise noted.