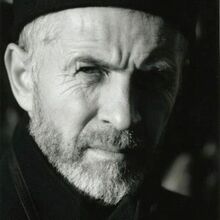 Peter Sanders was born in London in 1946.  His professional career in photography began during the mid-sixties where he photographed most of the major stars in the music business including Bob Dylan, Jimi Hendrix, The Doors, The Who, The Rolling Stones etc. Towards the beginning of the 1970's, Sanders' attention turned inward which set him on a spiritual search to India and then eventually to the Muslim world.  After his return to England, he converted to Islam and was given the name Abd al-Adheem. In 1971 he was granted the unique opportunity to photograph the rituals of Hajj or annual Muslim pilgrimage to Mecca.
Links To Peel
Peel used to live with several flatmates including Peter Sanders whilst living at Park Square Mews, London in the late 60's. In Margrave Of The Marshes, Peel nicknamed Sanders (spelled as Saunders in the book) as Beautiful Peter, due to his opinion as being undeniably beautiful. As well as the photographing the artists mentioned above, Pete Sanders had photos published in International Times and other underground papers. He was one of the group of regular guests who would be in the studio with JP during Night Ride and Top Gear - until in 1969 the new TG producer John Walters took objection to this and threw them all out.  
Sanders was one of a number of people associated with Peel and his shows (others included Richard Thompson and members of the band Mighty Baby) who converted to Islam in the 1970s, attracted by the Sufi mysticism which was popular with hippies at that time.[1]. He took many pictures of Peel in the 60's / 70's that were released in the music press, but the two later on in life didn't seem to keep in contact with each other.
External Links