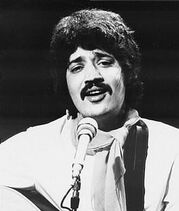 Peter Eardley Sarstedt (10 December 1941 - 08 January 2017), briefly billed as Peter Lincoln, was an Anglo-Indian singer-songwriter and multi-instrumentalist. He had recorded a number of successful albums and singles since the 1960s. Although his music was classified as pop, it generally encompasses ballads derived from traditional folk music rather than rock and roll. He was best known for writing and performing the single "Where Do You Go To (My Lovely)?", which topped the UK Singles Chart in 1969 and won an Ivor Novello Award.
Links To Peel
Peter Sarstedt's Where Do You Go To (My Lovely) was proclaimed many times by Peel as one of the worst records he had ever heard:
"Absolutely nightmarish record. And you know that, at least, whenever you listen to the radio here in Britain (I'm sure they don't do this at BFBS, because their people have quite exquisite taste, he he he, oh God), anyway, you know that whenever they say, "Here's a golden oldie," you know that it's going to be (sings tunelessly)." [1]
Not surprisingly, he never played it on his radio shows. However, a clip of the song appeared on
Top Of The Pops
presented by Peel and
David Jensen
on
05 January 1984 (TOTP)
to celebrate the 20th anniversary of the programme. Sarstedt did a session on
Top Gear
the year before his
magnum opus,
and Peel liked "I Am A Cathedral", the single which preceded "Where Do You Go To My Lovely", enough to play it on his show.
Sessions
One session, no known commercial release.

1. Recorded: 1968-09-25. First TX: 25 September 1968 (hence probably live in studio). No repeats.
Steel Flamingos / I Am A Cathedral / Blagged / Time Love Hope Life / The Artist
Shows Played
1968
See Also
External Links
Community content is available under
CC-BY-SA
unless otherwise noted.