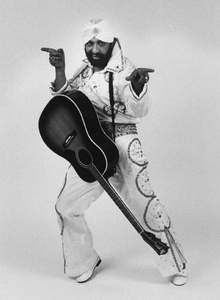 Peter Singh (real name: Narinder Singh 1946 - 2021) was born in Rawalpindi, which was part of pre-partition India, before becoming part of Pakistan. At the time of partition, his family moved to India and then to Birmingham in 1955. He relocated to Swansea in Wales and eventually opened a curry house but his desire to follow singing in the style of his hero Elvis Presley remained.
In 1980, he took to the road along with his troupe slowly building up a steady following and later his back up band were the Welsh prog rockers, Man. Appearing on various TV programmes in the 80's and performing, he was known as the Sikh Elvis or The Singing Sikh with his renowned turban, before retiring from the music scene sometime in the 00's.
Links to Peel
Peel played a track from the singer, from an Elvis impersonator compilation album in 1995, but didn't seem to play any other material.
Shows Played
1995
18 August 1995: 'Elvis I'm On The Phone (LP-Elvis Impersonator Blues)' (Helvis)
External Links
Community content is available under
CC-BY-SA
unless otherwise noted.