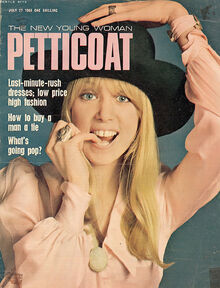 Petticoat was a British weekly magazine for young women which was published from 1966 - the height of the Swinging Sixties - until 1975, in London by Fleetway/IPC, printed in 40 page issues by Eric Bemrose in Long Lane, Liverpool. Launched by Honey magazine founder Audrey Slaughter and subtitled 'For the young and fancy free' on its original masthead, Petticoat responded to the emergence of a more liberal teenager and young woman. From 9-Sep-1967, it absorbed Trend, renaming itself Petticoat/Trend until it dropped the latter name about a year later. By this time, its slogan had changed to 'The New Young Woman'.
The magazine offered fiction, popular culture, fashion news featuring labels like Biba, Mary Quant, Foale & Tuffin and Bus Stop, and advice on love, sex, healthy eating, hair, and make-up, with plenty of full-colour photographs and Pop style monochrome line illustrations and typography. Petticoat promoted the Mod fashion of 'Swinging London'. (Read more at Wikipedia)
Links to Peel
Peel is known to have written columns for Petticoat during 1969, with a number of issues from that year featuring him appearing in online auctions or sales. A quote from one of his columns was included in an ad for Colosseum in Melody Maker of 28 June 1969. However, how long he contributed to the paper is not known., He also appeared in an issue published in November 1968, where he is mentioned on the front page. Inside, there are pictures of him and an article next to them. [1]
Petticoat might seem an unexpected place to find a Peel column, as the DJ was not known for his interest in fashion, but he mentioned in a column in International Times that he was interested in appealing to the young teenage audience as well as his committed Top Gear listeners:
If you got them listening and really into the music - they'd be transfigured before they reached twenty. I'm trying to infiltrate some of their magazines (e.g. "Rave" and "Petticoat") and if you have younger brothers, sisters, lovers, friends, lovers or whatever - present them with the alternatives. It all makes me feel incredibly old.[2]
The magazine was published by IPC, whose list of titles also included NME, Disc & Music Echo and Melody Maker, as well as Peel's preferred newspaper, the Daily Mirror. In addition, he would have sympathised with Petticoat's "new young woman" agenda and particuarly its openness about sex; in the late 1960s he spoke out in favour of sex education in schools, which was a controversial topic at the time. Among the contributors to the magazine was his future Radio 1 colleague Anne Nightingale.
External Links
Community content is available under
CC-BY-SA
unless otherwise noted.