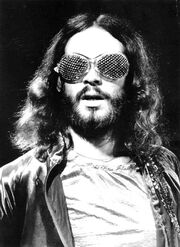 Phil Manzanera
(born Philip Geoffrey Targett-Adams, 31 January 1951) is a British musician and record producer. He is the lead guitarist with
Roxy Music
. He was also a member of Quiet Sun and 801, a group consisting of Manzanera, with
Eno
on vocals, synth and treatments, Quiet Sun bassist Bill McCormick,
Curved Air
keyboardist Francis Monkman, 19-year-old drumming prodigy Simon Phillips, and slide guitarist Lloyd Watson, who had previously performed as a solo support act for Roxy Music.
In 2006 Manzanera co-produced David Gilmour's album On an Island and played in Gilmour's band for tours in Europe and North America. He also wrote and presented a series of 14 one-hour radio programmes for station Planet Rock entitled The A-Z of Great Guitarists. (Read more at Wikipedia)
Links To Peel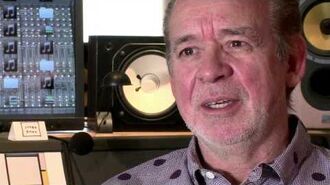 In a 2012 video interview with John Peel Archive, Phil Manzanera remembered listening to Peel's radio shows while still at school and unsuccessfully entering the 1971 "Rockortunity Knocks" contest on Top Gear with his pre-Roxy band Quiet Sun - other members also went on to record Peel sessions, with Matching Mole and This Heat. Eventually recorded in 1975, their only album together also featured Eno and was later found among Peel's LPs (see Record Collection: Q).
Peel also did support Roxy Music, although Peel's interest in the group mellowed (in 1977 he called an early live performance from 1972 somewhat weak). He still to seemed respect them after that, however, unlike some other acts that he initially championed, and continued to play their music from time to time.
On 11 August 1976 Peel broadcast a Roxy Music retrospective.
Sessions
One session. Three tracks released on Rare One .
1. Recorded: 1977-11-14. First broadcast: 22 November 1977. Repeated: 29 December 1977.
Law and Order / That Falling Feeling / Remote Control / Out of the Blue
Manzanera did also four sessions as a member of Roxy Music.
Other Shows Played
(The list below was compiled only from the database of this site and Lorcan's Tracklistings Archive. Please add further information if known.)
See Also
External Links
Community content is available under
CC-BY-SA
unless otherwise noted.