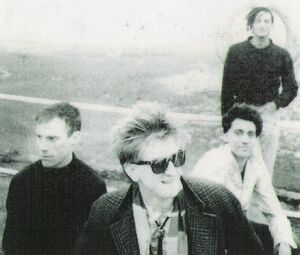 Pigbros was an English indie band formed in Birmingham in 1984 by Nick Beales (guitar & vocals) fresh from a stint in The Nightingales and Jonathan Cooke (bass). Recruiting a teenage Fuzz Townshend (later with Pop Will Eat Itself, Bentley Rhythm Ace, Ranking Roger, The Beat, The Wonder Stuff, etc - as well as projects under his own name) the band played a few gigs before augmenting the line up a few months later to include Svor Naan (saxophone & guitar) not long departed from The Cravats & DcL Locomotive. The initial sound was a rumbling, bass-heavy groove, driven by Fuzz's drumming and Jonathan's unique echo bass with Nick's fierce choppy guitar playing. Added to this concoction was Svor's mixture of sax riffing and swirling echo effects and a rather curious guitar style which could be mistaken for a balalaika. The band finally split in 1988 with members doing their own projects.
Links to Peel
A band that was regularly played by Peel in the mid/late 80's with two sessions recorded for his show. The group's name may also have been one of the factors for Peel to be interested in the band's output due to his wife, Sheila, being nicknamed the Pig as well as possibly the band's connection to the Nightingales and The Cravats, both of which were favourites of Peel at that time.
Sessions
1. Recorded: 1985-08-11. Broadcast: 21 August 1985. Repeated: 09 September 1985, 23 December 1985
Cheap Life / Hedonist Hat / Lick Bones / War Food
2. Recorded: 1986-04-27. Broadcast: 06 May 1986. Repeated: 21 May 1986
Bad Attitude / In Doubt / Immensity Home / What Counts?
Other Shows Played
1985
1987
1988
External Links
Community content is available under
CC-BY-SA
unless otherwise noted.