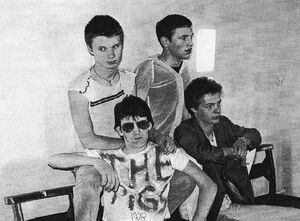 The Pigs (from the UK, not the Australian country-folk music band) are a Bristol-based punk rock band formed in 1977. They recorded an EP, Youthanasia, for independent label New Bristol Records in August of that year. Following renewed interest in the band after their original recordings were re-released by Bristol Archive Records in 2009, the Pigs reformed and are currently recording again. The band first got together at Henbury School. They launched themselves as a punk band after seeing the Cortinas, the Damned, the Jam and other early punk gigs in Bristol. After just a few gigs these 'aggressive, confrontational upstarts' were spotted by punk impresario Miles Copeland who ran Step Forward Records with Mark P. Copeland saw the Pigs supporting Generation X at Chutes on Bristol's Park Street and arranged for them to record at Sound Conception studios. Four tracks were released as an EP on a new label, New Bristol Records.
Links to Peel
The band's only single, Youthanasia, received repeated plays (at various speeds; the label misstated 33rpm) from John Peel, who tended to play artists naming themselves after the Pig, a nickname that he reserved for his wife, Sheila.
Shows Played
External Links
Community content is available under
CC-BY-SA
unless otherwise noted.