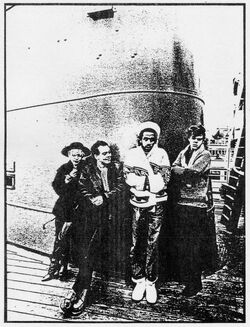 Pink Military was led by singer Jayne Casey from defunct Liverpool post-punk legends Big In Japan and originally known as Pink Military Stand Alone. Released a couple of experimental and dub-influenced EPs before an album of more conventional material that seemed to get lost in the shuffle and has still never been released on CD. Eventually morphed into the more dance-orientated Pink Industry.
Links To Peel
After his support for Big In Japan, Peel was quick to give airtime to Jayne Casey's next project, including the first EP as Pink Military Stand Alone and two sessions, and was thanked as a friend of the group on the back of their only LP.[1] In an interview with the Mezzanine Floors website, Casey explained:
"He (Peel) was dead important because he gave independent bands some air time. He helped shape the future."[2]
The DJ would continue to play the singer's music after Pink Military became Pink Industry, who recorded four sessions.
Festive Fifty Entries
Sessions
Two sessions. No commercial release. Dates for shows marked #2 repeats taken from Ken Garner's The Peel Sessions and may be #1 repeats.
Jayne Casey also four sessions with Pink Industry, one with Big In Japan.
1. Recorded: 1979-11-14. First broadcast: 26 November 1979. Repeated: 15 January 1980, 07 October 1986
Wild West / Did You See Her? / Stand Alone 
2. Recorded: 1980-05-27. First broadcast: 05 June 1980. Repeated: 02 July 1980, 24 July 1980
Everyday / Pilgrim Forest / Dance Of The Waning Moon 
Other Shows Played
1979
1980
1985
1999
(Please add any missing info)
See Also
External Links
Community content is available under
CC-BY-SA
unless otherwise noted.