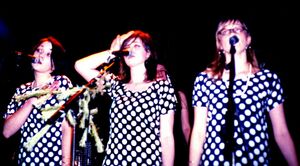 The Pipettes were formed in mid-2003 by singer-songwriter and promoter Monster Bobby with the intention of reviving the Phil Spector pop sound and giving it a modern twist, after noticing the reaction girl group songs got during his DJ sets. In collaboration with singer, poet, and photographer Julia Clark-Lowes, who was inspired by Bill Drummond and Jimmy Cauty's The Manual, he recruited friends from and around the local music scene. The Pipettes, as they were to become, were first introduced to each other by Bobby at The Basketmakers Arms in Brighton.
The line-up consisting of Rose ("Rosay"), Julia ("The Duchess (of Darkness)" or "Julia Caesar", RiotBecki, Jon, Seb, Joe ("Robin of Loxley") and Bobby settled in mid-2004, after earlier line-ups included members of The Electric Soft Parade and Marc Beatty of Brakes. In April 2005 founder member Julia left to concentrate on her own project, The Indelicates, and was replaced by former Welsh-language solo artist Gwenno Saunders. Since 2008, the line-up of the band have changed drastically resulting in none of the original members being involved in the group.
Links To Peel
Peel first heard the Pipettes when he received a CDR of associated acts from the people behind the Purr nights at Bath Moles Club. He played the group's track 'School Uniform' on his show on 28 September 2004 and planned to play the song again after returning from his working trip to Peru in October. Tragically, the DJ died during the holiday. After Peel's death, Rob Da Bank presented the programme, using Peel's planned playlists for the first week. This resulted in another play of 'School Uniform' on 02 November 2004 (Rob Da Bank).
The group recorded a session a few months later for Huw Stephens, one of the three successors who took over Peel's midweek slots in the evening schedule [1].
Festive Fifty Entries
Post-Peel
Shows Played
2004
External Links
Community content is available under
CC-BY-SA
unless otherwise noted.