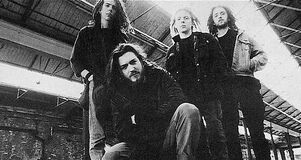 Pitchshifter is a British band from Nottingham, United Kingdom formed in 1989. The band was started by lead guitarist and programmer Johnny A. Carter, and bassist and vocalist Mark Clayden. The band was initially known for the early industrial metal sound with downtuned guitars and the use of drum machines and being cited as one of the originators of the genre along with Godflesh. With later albums the music became more melodic and punk-influenced, and the band eventually gained attention with their 1998 release www.pitchshifter.com for its fusion of electronic music such as drum 'n bass with metal and rock, which has been compared with other electronic groups like The Prodigy.
Links To Peel
In an interview with the Gavin Report in 1994, singer Mark Clayden respected the work of Peel and of him helping the band get airplay on his shows in 1991, when other mainstream radio stations would not play it: [1]
"He's a really nice guy and I totally respect him. He's been working for 25 years or more as a DJ at Radio One. He discovered a lot of people and it was really cool working with him. I feel sorry for a country that doesn't have a John Peel. He helps out all the small bands, like we were back in '91, giving them radio play. There was no other radio show that would ever play our kind of stuff. Now you can hear it, but at the time Peel was the only one who would play it. Even with the new radio in the U.K. it's the pirate stations that are cool. They'll play anything. Our gig in Italy was broadcast on the pirate station Radio Blackout."
Sessions
1. Recorded: 1991-04-28. Broadcast: 25 May 1991. Repeated: 03 August 1991
Gritter / Tendrill / Dry Riser Inlet
2. Recorded: 1993-03-30. Broadcast: 01 May 1993. Repeated: 17 September 1993
(A Higher Form Of) Killing (Radio Phuque Edit) / Diable (Wayco Survival Mix) / Deconstruction (Reconstruction)
Other Shows Played
1992
1993
27 March 1993: N.I.B. (v/a album - Masters Of Misery - Black Sabbath: An Earache Tribute) Toy's Factory
External Links